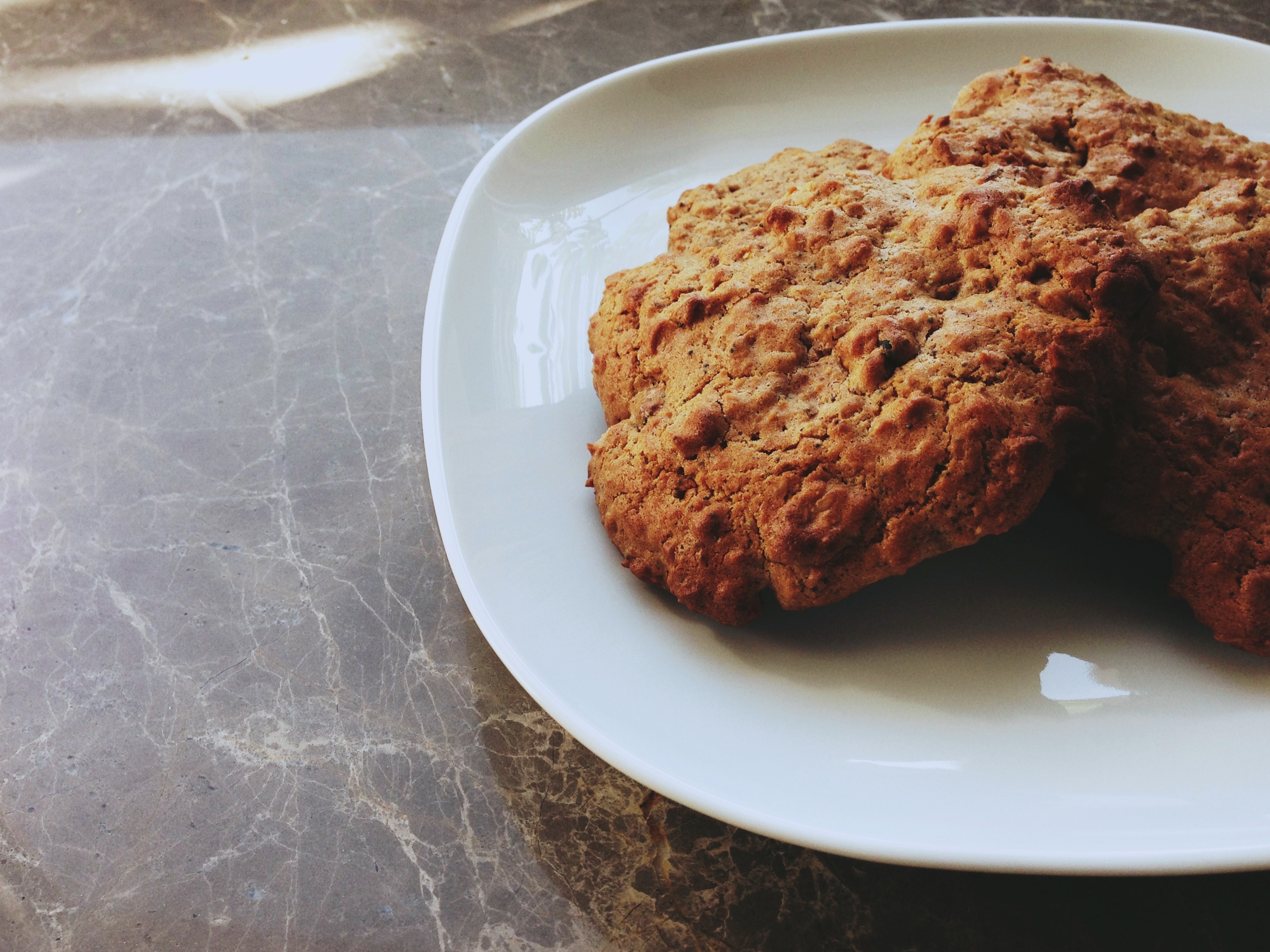 To be honest, I am not the only one reconsidering our initial, resistance-free plunge into the Turkish eating culture, after having arrived in the land of milk and honey (see also "Unlearning Snacking"). More recently my boyfriend has also been doubting his reacquired snacking habits. A long time ago he drastically cut down his own sugar consumption out of consideration for me suffering from fructose malabsorption and surely as a result of my never ending lectures on the negative aspects of fructose consumption. But our numerous sugar slips during the past weeks are finally coming into effect. As soon as we get close to a supermarket there is this faint voice to my left asking "Uhm, I wonder if they have those amazing Coco-Star chocolate bars. I didn't have any sweet treat today. One surely couldn't do much harm". A classical case of back-on-the-addiction-sugar-cravings I'd say. Even his attempt to do better by going for the organic, soaked in honey, oatmeal cookie instead of the chocolate bar cannot negate my previously made diagnosis. The only positive outcome of this recent sugar-slip is, that somehow I wasn't able to get those 'forbidden', crunchy and chewy oatmeal cookies out of my head. I was craving to have one of those cookies, but of course one being low in fructose. After browsing millions of oatmeal-cookie recipes on Pinterest I was left with no alternative. Because of that and well aware of my intent to strictly follow a fructose-free diet once again, without compromising on taste or variety, I resulted to not one, but three different recipes for oatmeal-cookies that are low in fructose. Call me nerd. 
We begin the cookie-trilogy with these yummy oatmeal-spice-cookies. Besides adding classical cookie spices such as cinnamon and ginger, add some walnuts, flax- and poppy-seeds to obtain the necessary crunch. Don't ask what flash of inspiration hit me here, but I also put fructose-free Ovomaltine cocoa powder into the batch, for the first time ever. Why on earth had I never thought of using Ovomaltine for baking before? I mean, the taste of chocolate once in a while is essential, isn't it? If you haven't yet stacked up on Ovomaltine, but are planning to buy some, which you should, make sure to buy the one produced for the Swiss market. The Ovomaltine produced for the rest of Europe is not low in fructose. Get the one low in fructose here.
The bottom line for these Oatmeal-Spice-Cookies is that their texture turned out to be more gingerbread cake-like than crunchy cookie-like, but this didn't take away from the taste experience. I loved the combined flavors of chocolate, spices, nuts and seeds, even though this is not exactly the kind of gusto my spring seeking taste buds and the overall rising temperatures have me craving at the moment. I guess this recipe won't be called into action again before temperatures start to drop.
P.S.: I kind of developed this recipe by trial and error based on my comprehensive research on Pinterest. The measurements are as precise as they could get without a scale and armed only with a measuring cup that I bought here in Turkey (usually Turkish women cook by eye ;). Therefore don't hesitate to adjust the amount of ingredients in case the dough turns out too soupy or too firm.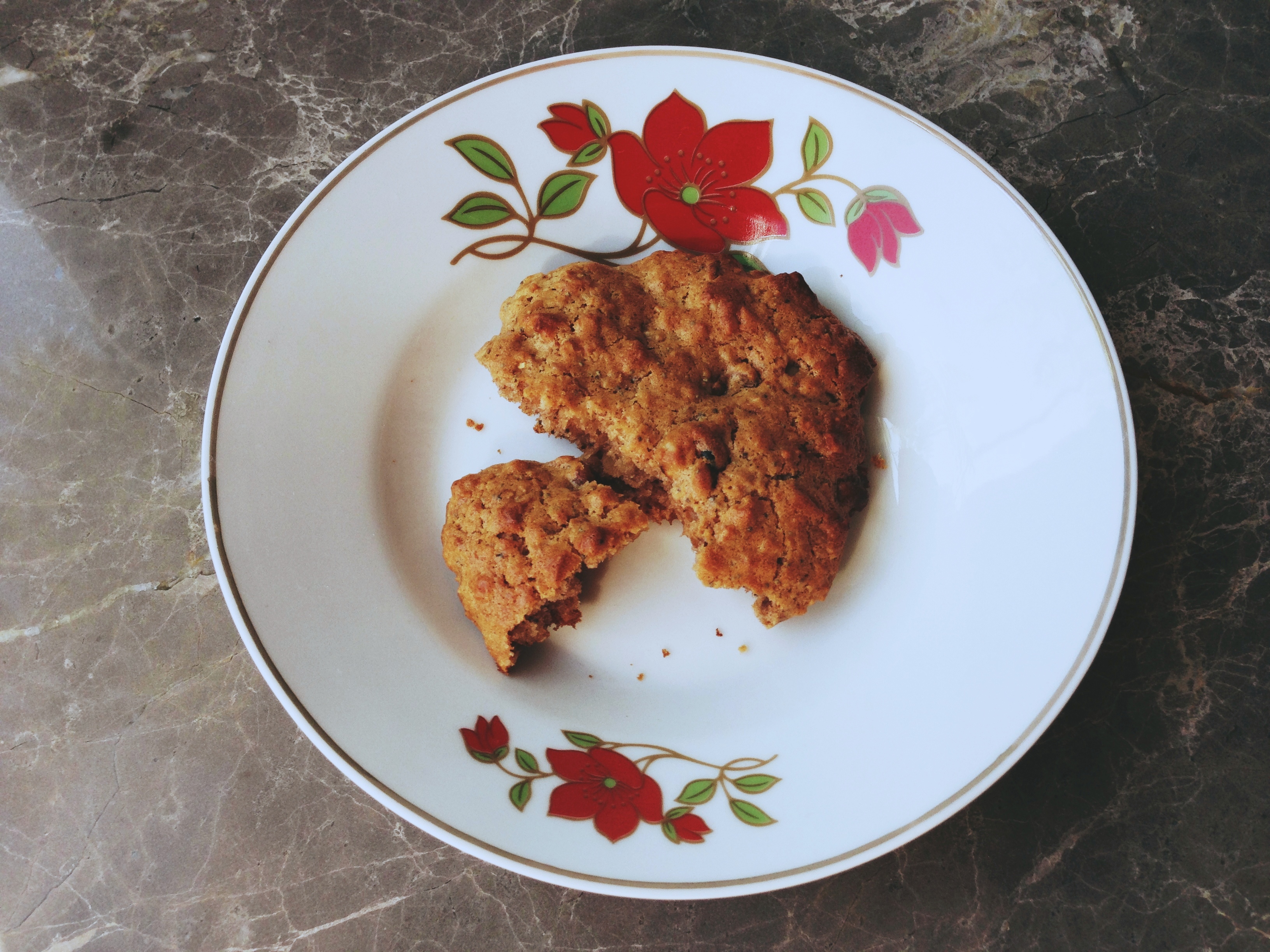 Oatmeal spice cookies* (Makes about 6 big cookies)
Prep time 15 minutes, baking time 12-15 minutes
(*please note: I developed this recipe before I went gluten-free, so it does contain wheat)
100 grams oatmeal
60 grams all-purpose flour
80 grams butter
1 egg
1 tablespoon flax seeds
1 tablespoon Ovomaltine (make sure to buy the original one low in fructose)
2-3 tablespoons of powdered glucose
1 tablespoon poppy-seeds
1 hand full of roasted walnuts
1 pinch of freshly grated ginger
1 teaspoon baking powder
1 teaspoon cinnamon
In a small pot melt butter and allow to cool down slightly. Preheat oven to 180° C. In a mixing bowl, whisk together flour, oatmeal, baking powder, cinnamon, Ovomaltine, butter and egg until well combined. Fold in seeds, walnuts and ginger.
Scoop dough onto a cookie sheet and flatten. Batch makes about six big cookies. Bake the cookies for 12-15 minutes, pull them out of the oven and place them onto a cooling rack. Enjoy! 🙂