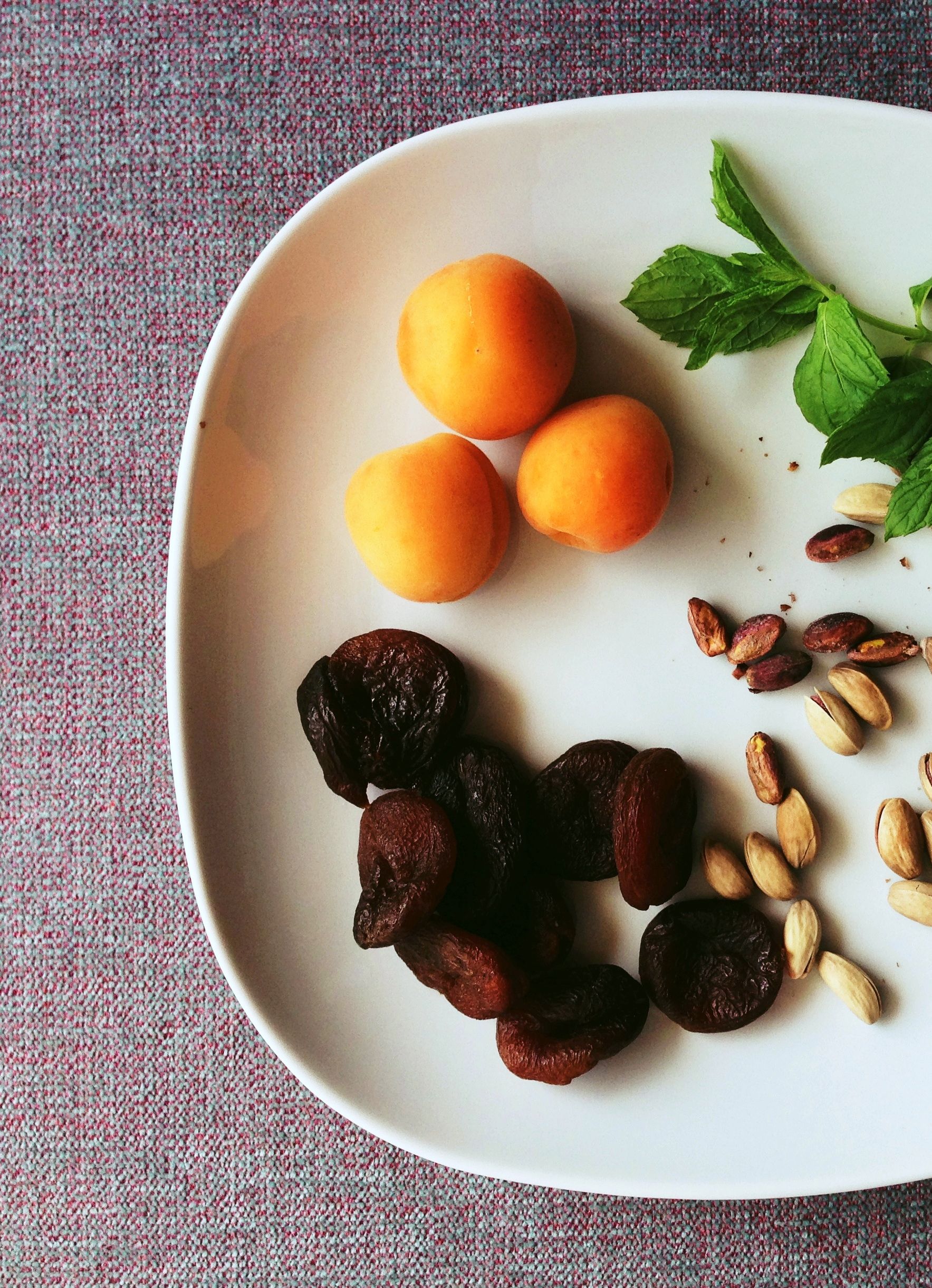 It took me a while to realize that Spring in Turkey doesn't last as long as it does in Germany. The fresh, locally grown strawberries at the fresh food markets disappeared just as quickly as they had appeared a few weeks earlier, leaving me little to no time to come up with all the nice strawberry-containing recipes I wanted to try and share with you. Which makes me a bit sad, as strawberries are one of the few fruits I can handle pretty well. But the good thing is, they will be back next year and meanwhile I will be concentrating on other seasonal fruits low in fructose. Enter, Apricots. Naturally low in fructose, an essential part in Turkish (dessert) cuisine and the perfect cast for the grand finale of my oatmeal cookie trilogy. Today, sun kissed apricots, crunchy, salty pistachios and a full-bodied cereal mix will be turned into aromatic Oatmeal-Muesli-Cookies. You could almost call it a tribute to my German-Turkish roots. 😉
Asking the fructose question: Apricots are naturally low in fructose. Even though I generally avoid dried fruits (at all costs), I figured dried apricots to be an exception, in small amounts of course. I can handle dried apricots well from time to time, about two per serving. Not bad in my opinion. This recipe contains a hand full of dried apricots (I found this way of measuring to be quite reliable), as it translates to less than one whole apricot per cookie. The same applies to the pistachios. A hand full of unshelled pistachios results in about three pistachios per cookie. If you don't eat all the cookies at once (I know this is hard) you can keep the amount of fructose taken in relatively low. To play it safe use fresh apricots or less pistachios or omit the one or the other, depending on your personal level of tolerance.
The bottom line for this recipe: The trilogy has a happy ending. These Oatmeal-Muesli-Cookies have the most sophisticated taste out of all three recipes. The full-bodied cereal mix out of oat, rice and wheat, the smooth sweetness of the apricots and the salty-crunchy taste of the pistachios cater to an addictive taste. Bonus: It won't take you more than 10 minutes mix up this batch of cookies. In my opinion, this recipe is the outright winner of the trilogy "competition".
It feels about right to complete the cookie season (for now) with such a delicious recipe. The rising temperatures call for greener, fresher, lighter dishes. What kind of recipe or taste are you treating your discerning palate with these days? Also fill me in on any recipe wishes or things you may be missing from this blog of mine.
P.s. I updated my blogroll (see bottom of page). Check out those other blogs on fructose free living:
Bengelchens Chaosleben (in German)
Fructose Free Recipes
No sugar less gum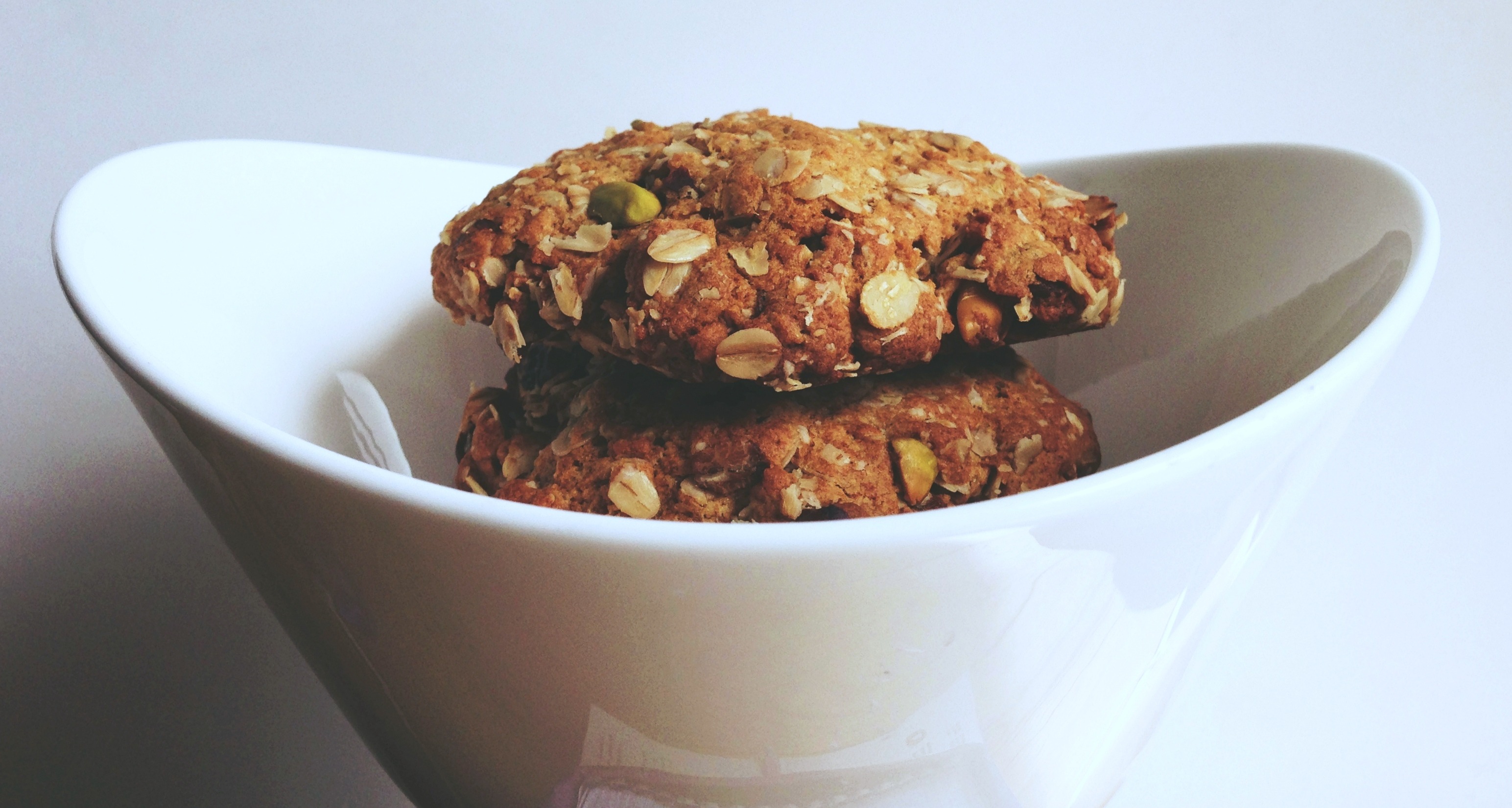 Oatmeal muesli cookies* (Makes about 9 big cookies)
Prep time 10 minutes, baking time 12-15 minutes
*please note: I developed this recipe before I went gluten-free, so it does contain wheat
1/2 cup unsalted butter (room temperature)
3/4 cup powdered glucose
3/4 cup all-purpose flour (I used a mix of rice and all-purpose flour)
1/2 teaspoon baking soda
pinch of ground cinnamon
1 cup oats
1 hand full of dried, unsulfured, unsweetened apricots, coarsely chopped (I used about 7 apricots, see also notes above)
1 hand full of lightly salted, unshelled pistachios, coarsely chopped (see also notes above)
Preheat oven to 350 degrees Fahrenheit. In a mixing bowl, whisk together butter and glucose until fluffy. Add egg and beat until well combined. In a second bowl mix flour, baking soda and cinnamon. Slowly stir flour mixture into butter mixture. Fold in oats, apricots and pistachios. The dough should appear like normal cookie dough.
Form dough into small balls, place onto a cookie sheet and flatten. Batch makes about 9 big cookies. Bake the cookies for 12-15 minutes, pull them out of the oven and place them onto a cooling rack. Enjoy!