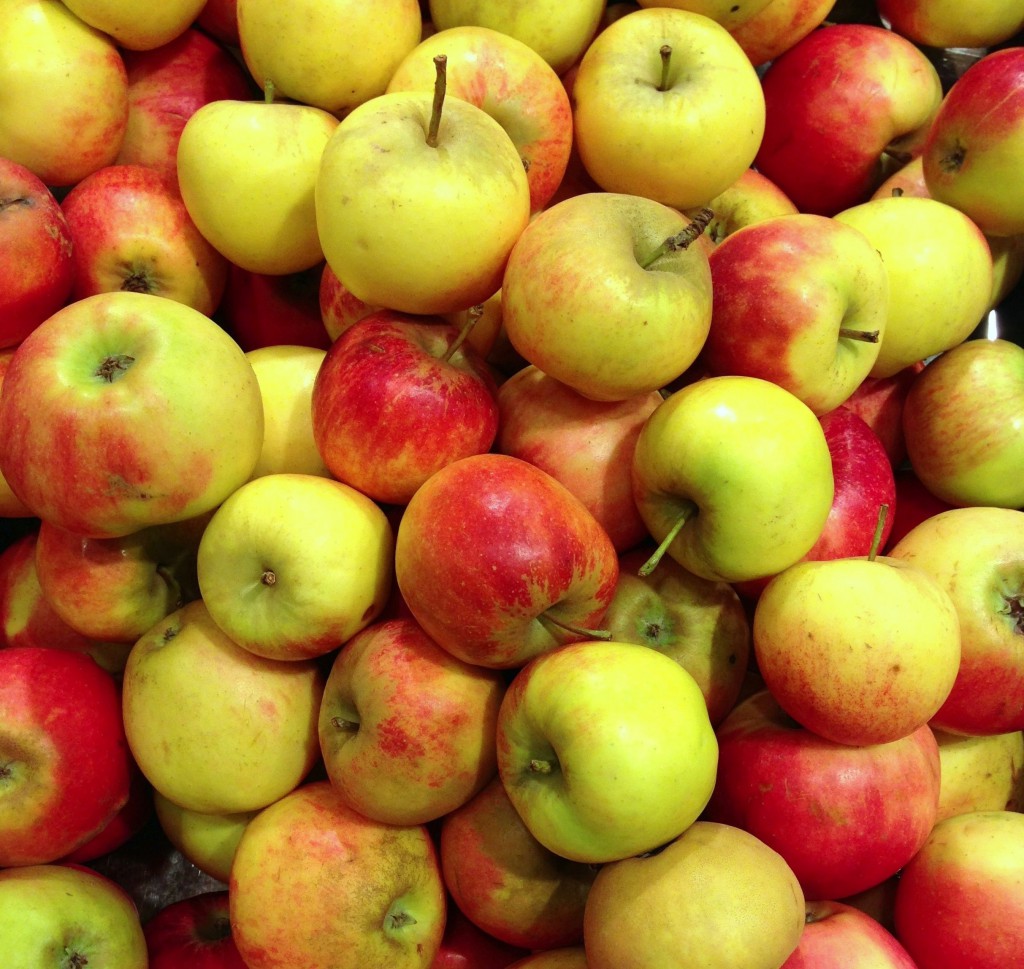 Whew, last week was a hectic one, which explains the eight days without a new blog post. This being my third blog week I'm feeling pretty guilty. Blogger's guilt, I guess.
At the same time I was kind of thankful for a little more thinking time to write this blog post. I knew I still owed you the follow up on my food dos and don'ts.
After showing you what I usually eat I had to come up with a list of no-go foods. This might sound like an easy task for someone with fructose malabsorption, but it was actually much harder than I thought it would be. Somehow I found it more difficult to list the food I try to avoid than the food I eat regularly. But why is that? Is it some sort of repression or have I just gotten completely used to a routine diet low in fructose? I'm not sure, but it is only now that I realize how little I miss all the foods on my no-go list. I kind of stopped complaining about all the foods that 'I'm craving badly but can't have', 'that are forbidden', 'that are so difficult to avoid', bla bla. Instead, I'm pretty much content with all the foods I can have and can indulge in. (Which doesn't mean I'm about to stop complaining about all the crap the food producers put in our food!).
For my list I needed to do some research on my own nutrition habits. What do you do when you're having trouble remembering the foods you used to buy? Exactly, find a supermarket and browse the aisles. That's what I did. I wandered through the supermarket with the sole purpose of looking for foods I hadn't bought in a long time. The main observation I made, which I hadn't previously realized, was that the first and seemingly most important thing one generally encounters in a German supermarket are fruits and vegetables. Apples, carrots, egg plants, tomatoes by the dozens. As ironic as it may sound, I've stopped noticing this section. Usually the only stop I make in this department is for salad. That's it. Everything else, I've been ignoring. There goes another example to show how radically fructose malabsorption changes our lives and how adaptable we are in our lifestyle.
In addition to my research at the supermarket I had a look at other do-not-touch-lists by nutritionists and other bloggers suffering from fructose malabsorption. The more I immersed into the topic, I got the feeling that either a) I'm much more sensitive to little amounts of fructose or b) simply follow a stricter diet than others. For example, I found a lot of recipes by fructose malabsorbants that include regular sugar. I would never come up with the idea of doing so. Not only because I usually don't feel like suffering from stomach pain, but also because I kind of weaned off the taste of sugar. If I do happen to have something sweet on occasion (yes, this does happen sometimes, nobody's perfect), I usually regret it immediately. Not only because by now everything tastes way too sweet for me, but also because I never want to walk into that sugar trap again. That's the way I describe this horrible feeling of always wanting, needing something sweet and never getting enough of it. Just one more Snickers, just another pack of cookies, uh, that ice cream tastes too good not to go for seconds…I could never get enough of sugar. Yes, sugar is highly addictive so it is important to put a stop to it. But this can only happen, when resisting sweets. So, whenever I really do feel like something sweet I usually go for some glucose or a piece of fruit. When choosing fructose I would rather go for a small piece of vitamin packed fruit instead of sticky sweets.
So, after this short discourse into my routines and realizations, let's cut to the chase: Which foods do I deny the entry to my plate? Basically I cut out all processed foods. Yes, ALL. Let it be cold cuts, premade dressings, sauces, convenience food, ketchup or mayonnaise. I have a rule of thumb that works pretty well for me: I do not touch anything with more than five ingredients. Even better, make it three. Take any product out of your fridge or pantry that contains more than five ingredients and I promise you, there will be something weird and artificial in it. Even potato chips with a "natural" or "sea salt" flavor contain whey or onion powder for some odd reason. So much for so-called "natural" foods.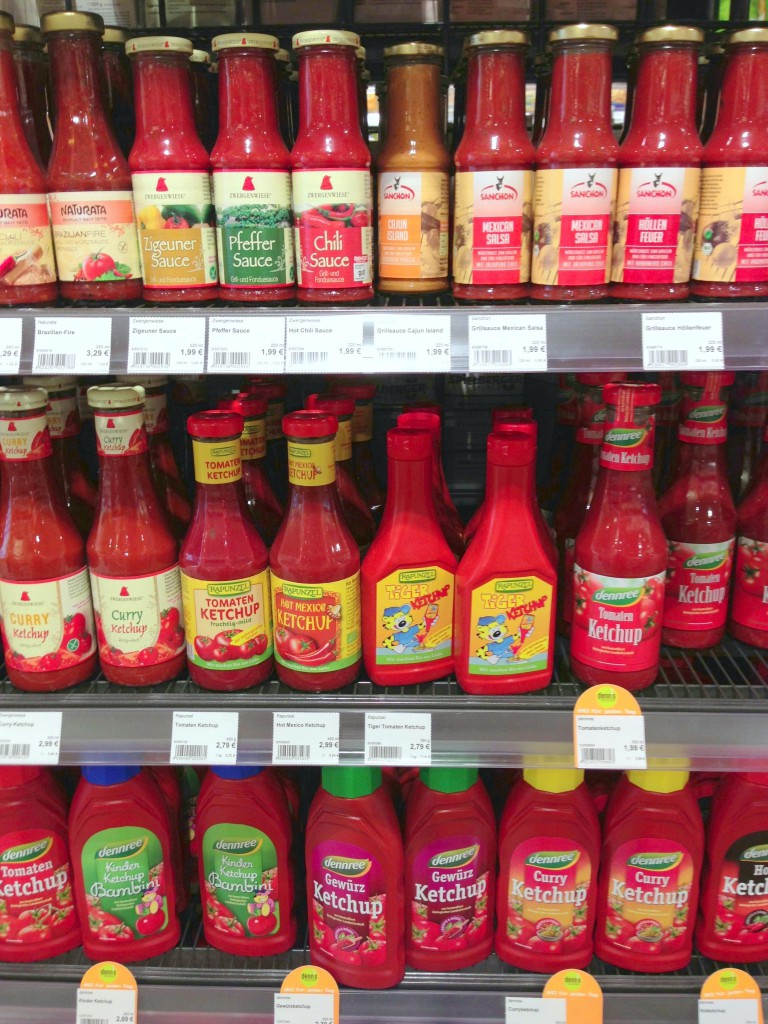 And, here comes my no-go-list, a list of fructose loaded foods to avoid with IBS. But of course I'm curious to know what's on your no-go-list? How strictly do you watch out for fructose in your food?
Food I try to avoid rigorously
Onions
Tomatoes (in large amounts)
Wheat, meaning all sorts of pasta and bread
Corn (in large amounts)
Dressings
Mayonnaise
Ketchup
Peanuts (in large amounts)
Soy sauce
Pickles (like Cucumbers, they have tons of sugar in one glass)
Egg Plant (I noticed that I tolerate it in small amounts)
Bell Peppers (in large amounts)
Balsamico
Weird cheese spreads in "new" flavors
Cold cuts (if I want something meaty for my sandwich I'll buy it straight from the butcher)
When I go out for lunch or dinner I always ask the waiter if the dish I chose contains onions or tomatoes. If so, I choose something else or ask it these ingredients could be left out. I also order my salads without dressing and ask for olive oil and lemon instead.
No Sweets for me (As mentioned above, sweets are an absolute no-go for me)
Chocolate
Ice cream
Sugar
Agavesyrup
Coconut sugar (in large amounts)
Honey
Jam
Chocolate spreads
Sweetened peanut butter
and the list goes on (this is a no-brainer)
The obvious no-no: Fruits
Grapes
Apples
Pears
Pineapple (in large amounts)
Cherries
Raisins, dates and whatever dried fruit there is (I tolerate small amounts of dried, unsweetened cranberries and apricots)
of course the list goes on, but I hope you get my point …
No drink for me:
Coke and other soft drinks
Juices
Fruit tea
Beer
Red Wine
Fruit or herbal schnapps / liquor / liqueur (like Jägermeister, Baileys, Ramazotti)
What I do drink boils down to water, water, water, herbal tea, coffee, a glass of white wine, prosecco or vodka soda (vodka with sparkling water) once in a while. Of course my tummy doesn't really appreciate the intake of alcohol, but a moderate amount of drinks is usually fine.