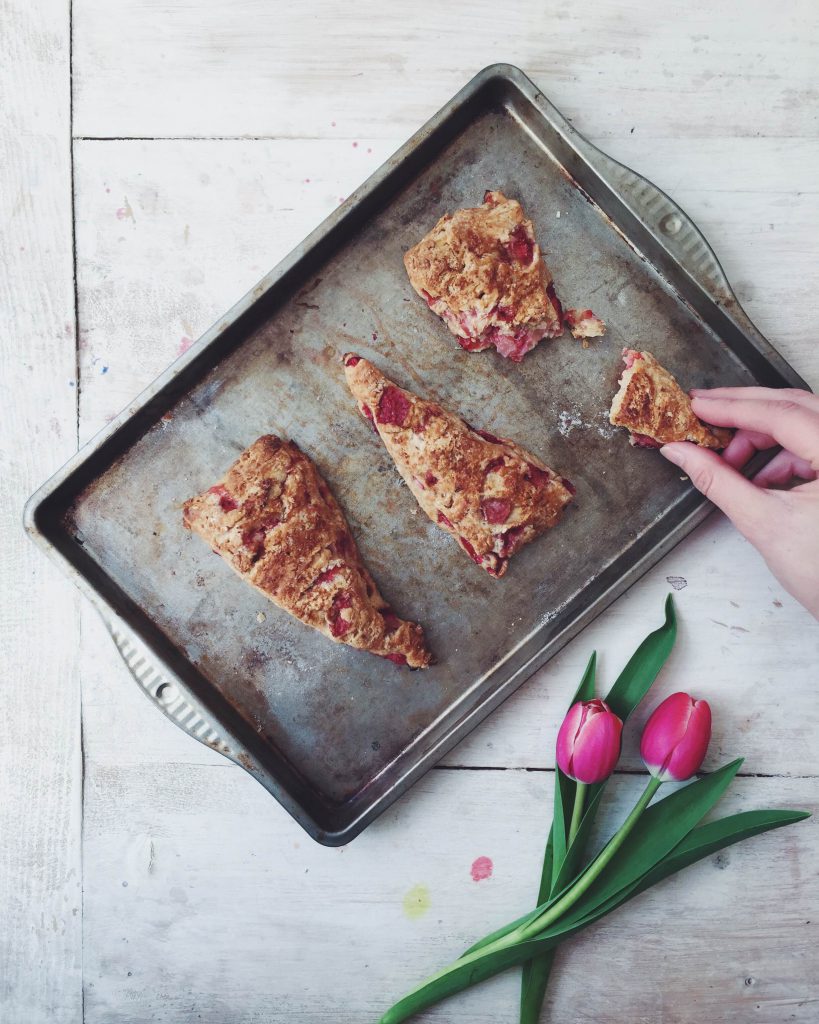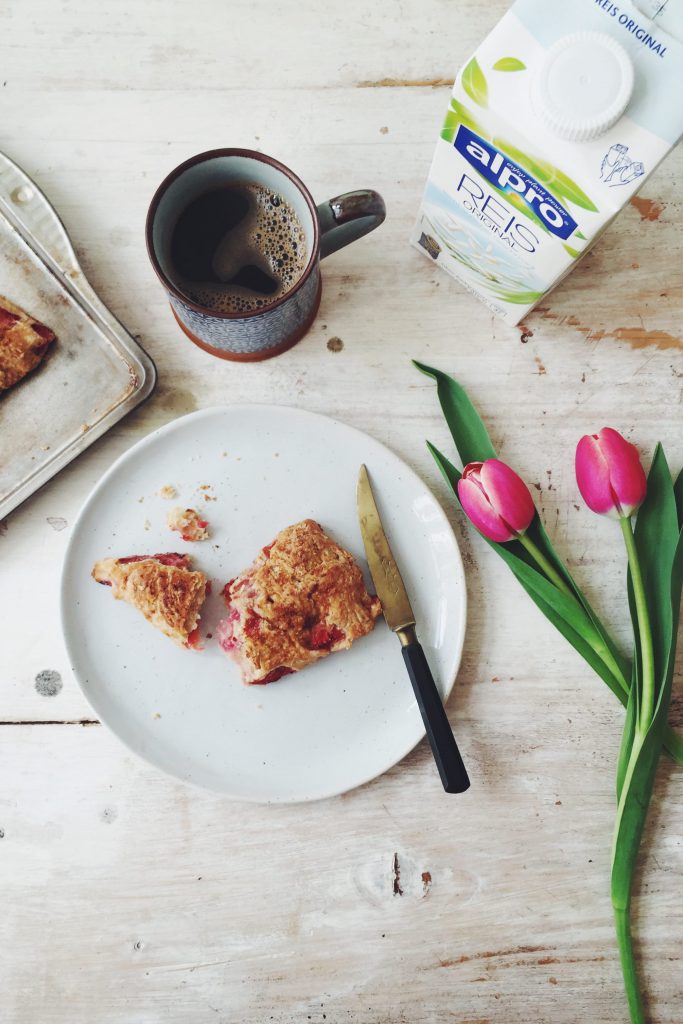 The average German citizen consumes a roughly 35 kilograms of sugar each year and I used to be pretty good at boosting that average with my own excessive consumption. There was a reason the "sweets drawer" in our home had a classwide reputation. Ah, home sweet home!
But let's take a moment to think about this number: It's been six years now since I quit sugar for good. Six years, which amounts to a total of 195 kilos of sugar that never got pumped through my body. Sadly this also made me realize that, during the other ⅘ of my life, I already consumed four times the amount without even blinking an eye. Holy caramel!
But hey, at least I'm on the right track, don't you think?
Actually, being aware of your own sugar consumption or even making an effort to reduce it, is further down the road than most of the people around you will ever get. No matter if you are quitting sugar by choice or for health reasons, it's time to give yourself a proud pat on the shoulder here, because you're doing a pretty awesome job!
In order to give even more people an encouraging and much needed nudge in the right direction SisterMag and Alpro teamed up to create a great series on how to find your personal sugar balance. Two other German food bloggers and I came up with some delicious recipes to make things easier and to help you turn your good intentions into action.
From this day on, you will have everything you need to shrug off those sugary Starbucks treats offered to you by whipping out your very own homemade frappucino and scones. Trust me, these will do the trick. Even my father-in-law, a true American with a sweet tooth, was hooked on those flaky, spelt, strawberry scones I created. So why not celebrate this season's last batch of strawberries and show off your sugar-free baking skills to your brunch guests next weekend?
Go grab the full SisterMag issue in Englisch here. The sugar-free special starts on page 142! (yes, it's in English too!) Enjoy!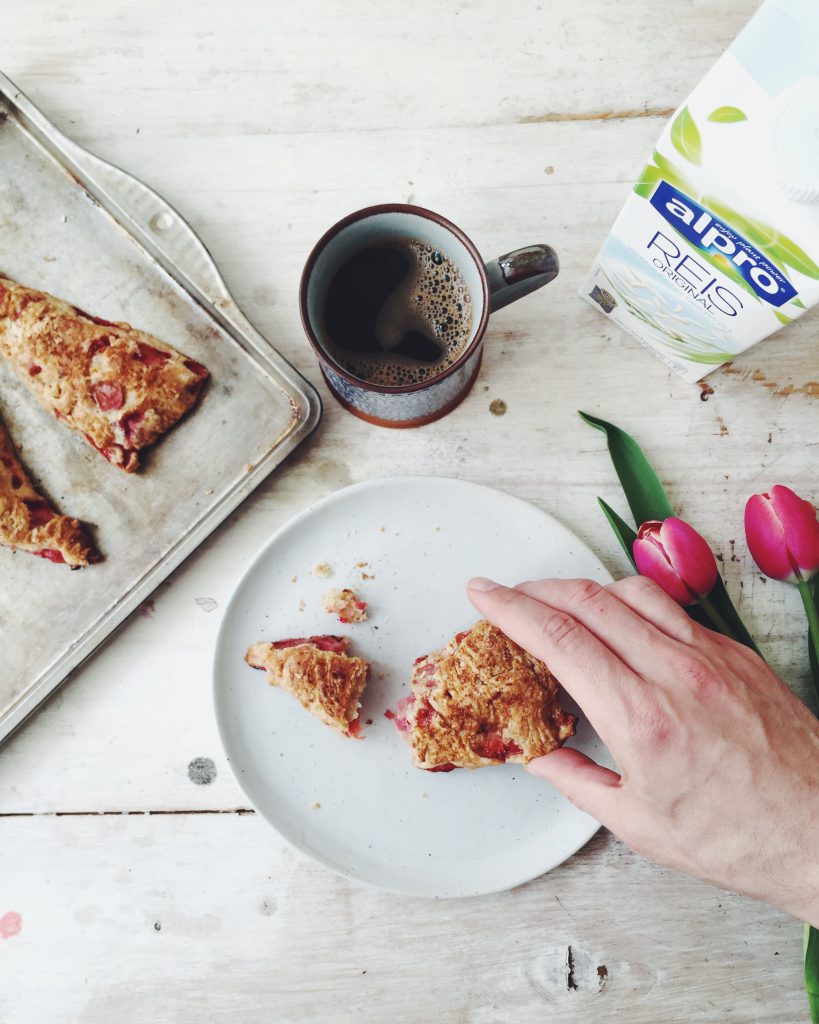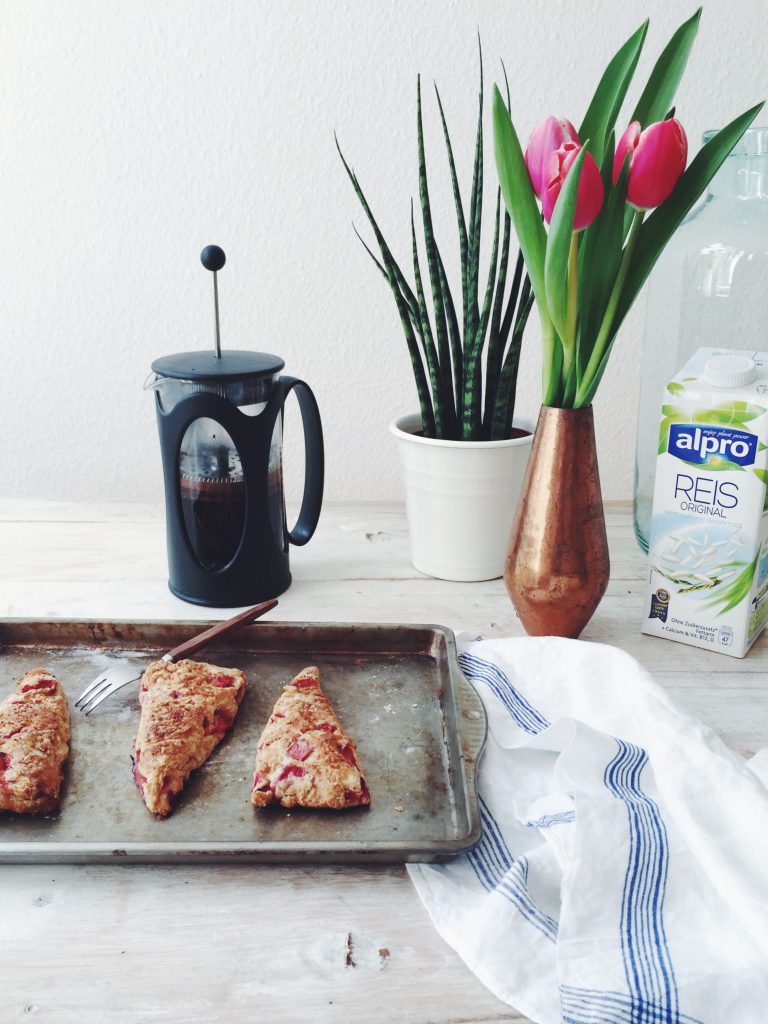 Sugar-Free Strawberry Spelt Scones
Up for some sweet and flaky scones to go with your coffee? Hell yeah! Unfortunately those little triangles of dough, offered by your coffee chain of choice, tend to be packed with tons of refined sugar. One serving will have you double your daily sugar intake and probably leave you feeling sluggish and tired. Which is also why, for this healthier version of your new favorite scone, I decided to skip the glaze and chocolate thing altogether. Instead, I let ripe strawberries and a hint of rice milk speak for themselves. De-lish!
Strawberry & Rice Milk Scones (Fructose-Friendly, Wheat-Free)
Makes 6 large scones
1 hand full strawberries
1 tbsp coconut sugar or fructose-free corn sugar
300 g spelt bread flour
1 tbsp baking powder
1/4 tsp Himalayan salt
80 g cold (vegan) butter
130 ml unsweetened rice milk e.g. by Alpro
50 ml brown rice syrup
1/2 tsp ground vanilla
coconut sugar to sprinkle on top *optional
Preheat the oven to 425° F / 220° C. Cut strawberries into slices, sprinkle coconut sugar on top and let sit for 5 minutes.
Sieve flour into a large bowl. Sieving the flour results in airier scones. With a wooden spoon mix in baking powder and salt.
Cut cold butter into small cubes. Gently massage butter into the flour until flaky. You still want to see some larger chunks of butter.
Slowly add rice milk, brown rice syrup and vanilla to the flour mix and incorporate with a wooden spoon. Slowly mix in berries. Don't worry, the scones will be a little sticky. That's exactly how you want them to be. Avoid extensive rolling at this stage and don't add too much flour, as this will result in chewier scones. Lightly flour your hands and transfer the dough onto your prepared baking sheet. Form into a rectangle. With a sharp knife cut dough into equally sized triangles.
Carefully spread the scones apart. For the perfect crust, drizzle some coconut sugar on top.
Bake for 15-18 minutes until golden in colour or until a toothpick inserted into the center comes out clean. Rotate the baking sheet halfway through baking.
Serve the same day with a generous amount of butter and freshly brewed coffee.