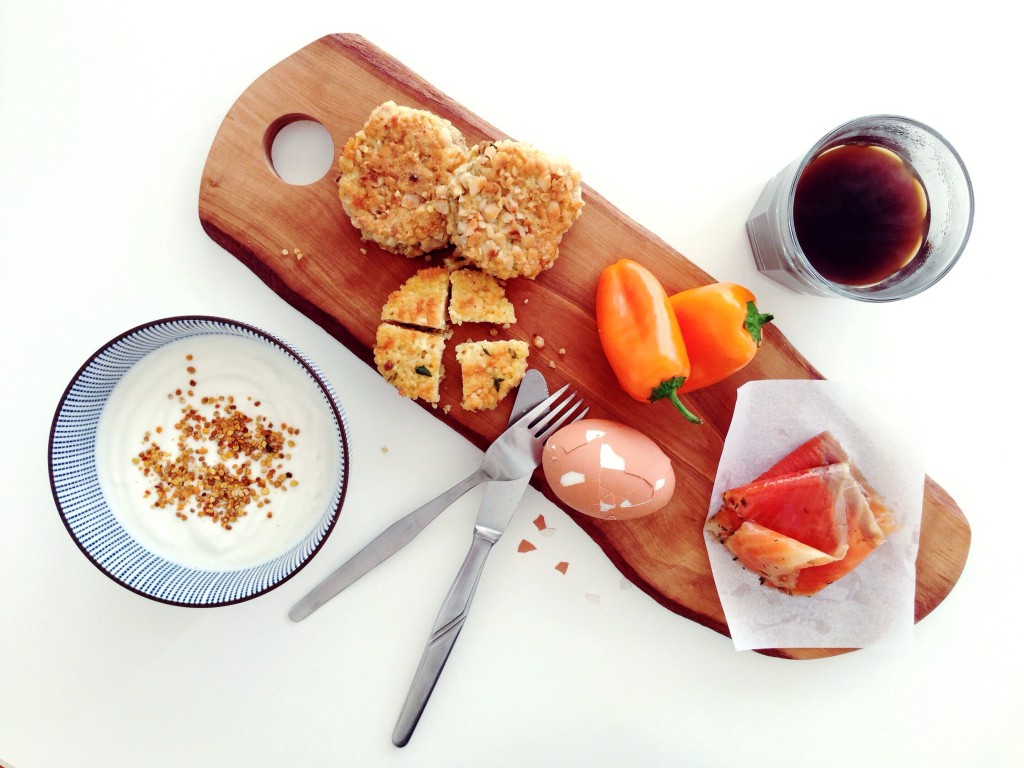 Sundays for me are preferably spent relaxing and in most cases also cooking ahead. Even though I do not meticulously plan out my meals for the upcoming week, I still like to be prepared. Prepared in terms of knowing that sometimes it can be difficult for people like us to quickly whip up a healthy and filling meal. That is why on Sundays I usually cook up a batch of buckwheat, potatoes or millet, or all of the above, to store in the fridge. That way I have a fructose friendly and gluten free base on hand to ready a nice meal. This is particularly convenient when I'm running late and still need to pack lunch rather than returning home on an empty stomach.
Speaking of planning ahead it is about time I share this recipe for gluten free millet patties with you. While millet has become one of my favorite gluten-free super foods, these millet patties are quite the perfect all-rounder. Due to their subtle taste they go well with almost everything: Have them with eggs and salmon for brunch like I did, with a spicy yoghurt dip for lunch or with a salad for dinner. They taste equally good warm and cold, that's why they also make a great take away snack. Be warned though, this recipe is a bit time consuming. Then again, Sundays are usually more slow-paced anyway, right? Plus, in my opinion it's even more rewarding to treat yourself to a nice meal you've worked hard on. 😉 So make a batch of millet patties and grab whatever else your heart desires on the side and enjoy a cozy, well-deserved Sunday brunch!
P.S. I created a Facebook page to share my posts as well as interesting research finds. Only four more to crack the 100, so go ahead and share some likes! 🙂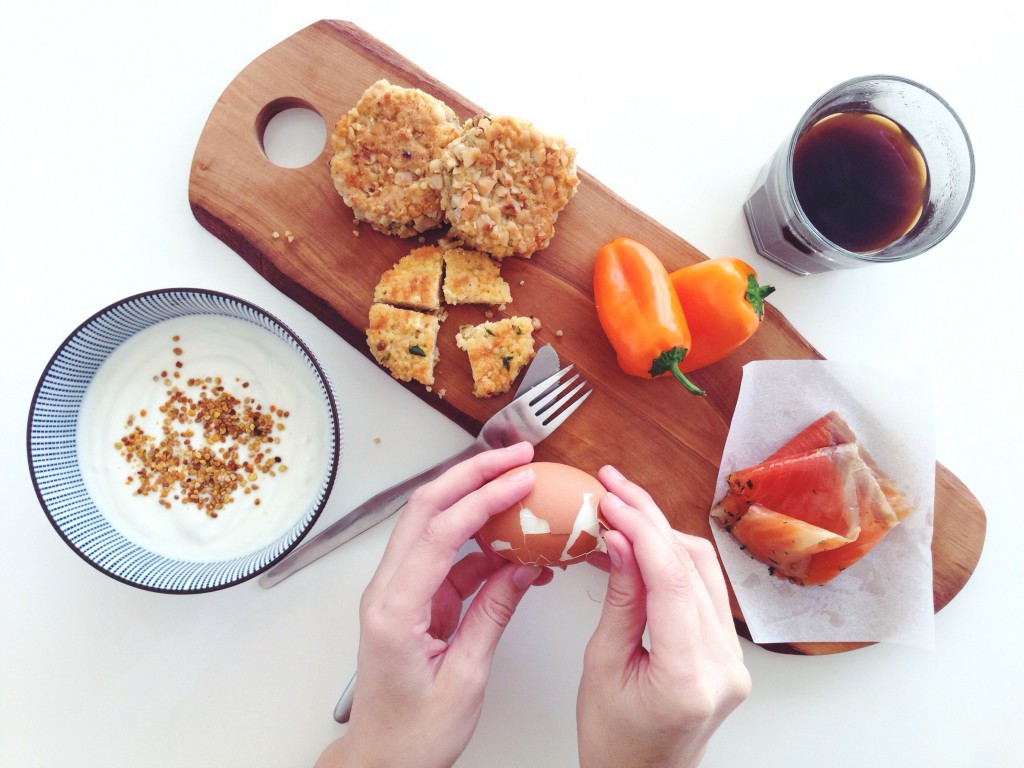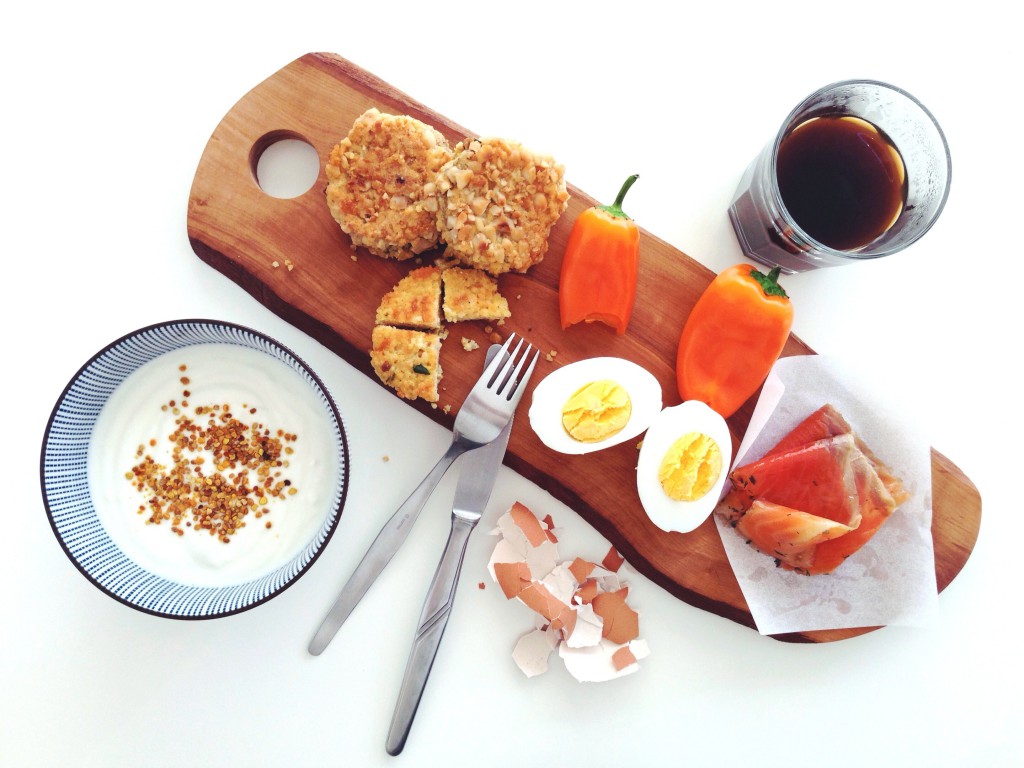 Gluten Free Millet Patty
I usually soak my grains over night. For one thing, soaking grains before cooking or baking breaks down the phytic acid, which otherwise makes it difficult for us to digest the minerals that make grains so healthy. Another advantage is that soaking reduces cooking time. If you don't have time to soak the millet, don't worry. Of course you can skip this step. Just make sure to wash the millet thoroughly beforehand. Add about 1 cup (230 ml) of water instead of the measurements listed below and allow to simmer 4 minutes longer. If you like crunchy coatings and hazelnuts I recommend you go for the extra time and mess and try the hazelnut coating shared below, but they taste nice without too.
Ingredients (makes about 8 small patties, recipe can easily be doubled)
1/2 cup (100 g) millet
1 cup (230 ml) water plus more for soaking (see note above)
1,5 oz (40 g) cheese of choice (like gruyere, cheddar, parmesan)
1 large egg
1 tsp thyme (use fresh if possible)
1 tsp fenugreek seeds
Salt and pepper to taste
Oil for frying
Optional: Hazelnut coating
1 egg
1 hand full of millet flour
2 hands full of hazelnuts
Instructions
About 12 hours ahead of making, wash millet thoroughly under running water until water comes out clean. Place millet in a pot, add water until millet is just covered. Cover the pot and let sit until ready to prepare.
When ready to cook, discard soaking water and add 1 cup of fresh water. Bring millet to boil, then reduce heat to low and let simmer for about 5-6 minutes until most of the water is absorbed. Turn off heat, cover pot and let rest for 10 minutes. Loosen millet with fork and allow to cool down.
In the mean time grate cheese. Place fenugreek seeds in a coated pan without oil and roast slightly. Grind with mortar and pestle. Wash thyme, dry and pick leaves.
Place millet, egg, cheese, fenugreek seeds, thyme, salt and pepper in a bowl and mix. The dough shouldn't be dry or crumbly, but slightly wet. Add water or another egg if too dry. Allow flavors to infuse for a couple of minutes.
If you want to coat the millet patties, prepare coating now. Take three plates. Place millet meal on the first and whisk the egg on the second. Chop hazelnuts and place on the third plate.
Take small amounts of the millet mix and mold into discs. If you decide to coat the patties, carefully roll them in millet meal, egg and hazelnuts, in this particular order.
Heat a pan, add 1-2 tbs of oil, carefully place patties in pan.
Frying time without coating: ca. 4 minutes on one side until golden, gently flip, continue frying for another 3 minutes
Frying time with coating: ca. 5 minutes on one side until golden, gently flip, continue frying for another 4 minutes