It's time for a new category on Fructopia. From now on I will also present product finds. New products that I've tested and that I think are worth sharing. I couldn't have thought of a better product to kick off this new section than the one I'm about to introduce you to. We all love products that are pretty much flawless, don't we?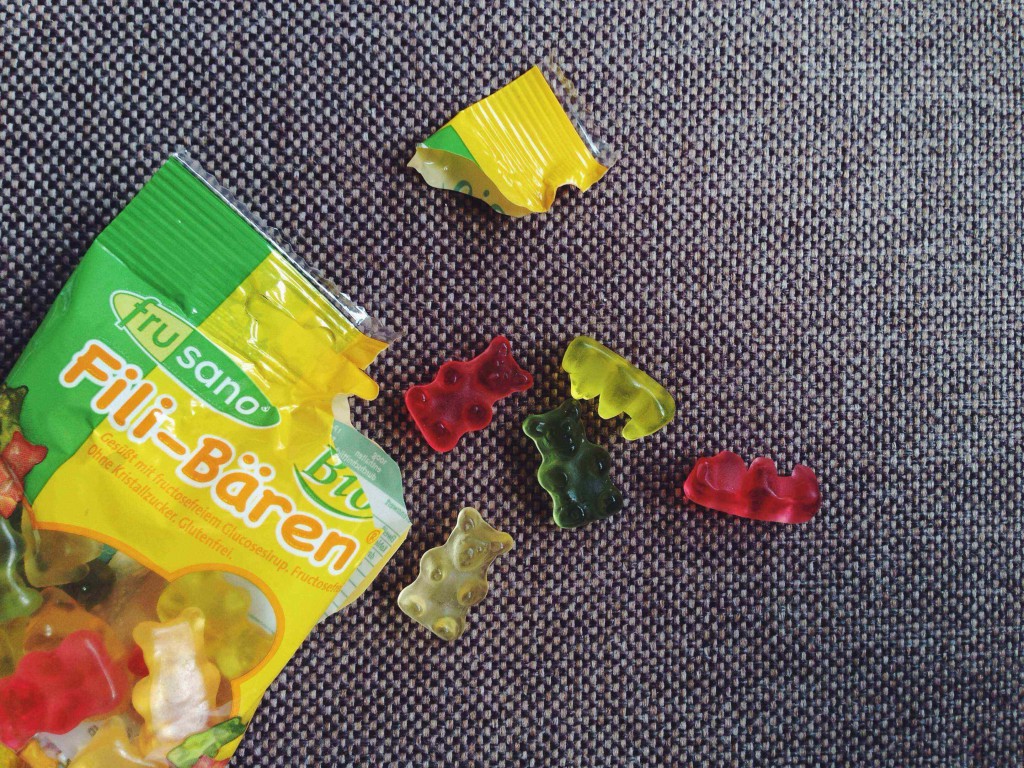 Ok enough already, let me put you out of your misery. The headline to this post probably has you just as excited as I was, when I heard of these fruity gems for the first time. Enter fructose free and gluten free fruit gums by Frusano. Real fruit gummy bears developed for people like us. No refined sugar, sweetened only by fructose free organic glucose syrup. Please give a warm welcome to Fili-Bären! 
The moment I read about these gummy bears I knew I had to get my hands on them as soon as my feet touched ground in Berlin. Once I reached my trusted health store (called Reformhaus in German) the lady working there quickly filled me in that I wasn't the only one who'd caught the scent of these little fellows. Apparently they had sold out in no time. People must love Fili-Bären. I was quite disappointed to hear that they were out of stock. During the following three weeks in Berlin it took me three more attempts before I finally got hold of a few packs to call my own. (Update: Since the beginning of 2014 Frusano products are also now available at German drug store chain dm.) Because they are rather expensive (one 50 g pack sells for 1,29 €) and I had yet to actually test them I acquired only three packs to start with, which I regret deeply now that I've tasted them and can't get hold of them here in Turkey. Anyway, have I mentioned that these fruit gums taste amazing? Just like real gummy bears. Even if they tasted half as good, they would still taste delicious. The fructose free chocolate by Frusano is already quite a stunner, but these Fili-Bären…oh my!
Check out the product details, ingredients and nutritional information provided by Frusano: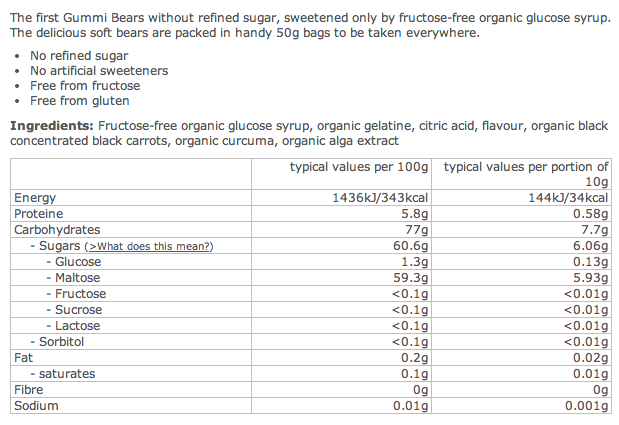 The bears come in four different flavors, meaning four different color variations: red, green, yellow and white. My favorites are definitely the red and green bears. Compared to the well-known original gummy bears by Haribo Fili-Bären are a little bigger in size and softer. But who's going to complain? And, what's more, I didn't have any side effects or symptoms of malabsorption whatsoever after devouring an entire 50 g bag. That's like 18 gummy bears!!!
The bottom line is: You have to try them! Finally some safe fructose free sweets. Just try to ignore the price and buy a few to keep in storage. You won't regret it. Let's hope the price will drop as soon as Frusano realizes how well they sell, so we can buy even more. Yummy, yummy, yummy, I've got love in my tummy.
I don't know much about the distribution of Frusano products outside of Germany, but I'm sure they may be hard to get hold of in some of the countries you are living in. Please share your tips if you know a place selling Frusano products. You could of course also order straight from Frusano, but the price for international shipping is quite hefty, so you may want to order in bulk.
Taste                                                    ★★★★★
Value for money                                ★★★☆☆
Estimated availability worldwide  ★☆☆☆☆
Happiness factor                               ★★★★★