"Black is the new green. Trust me, in 2015 black rice will take over your kitchen." – Tweet that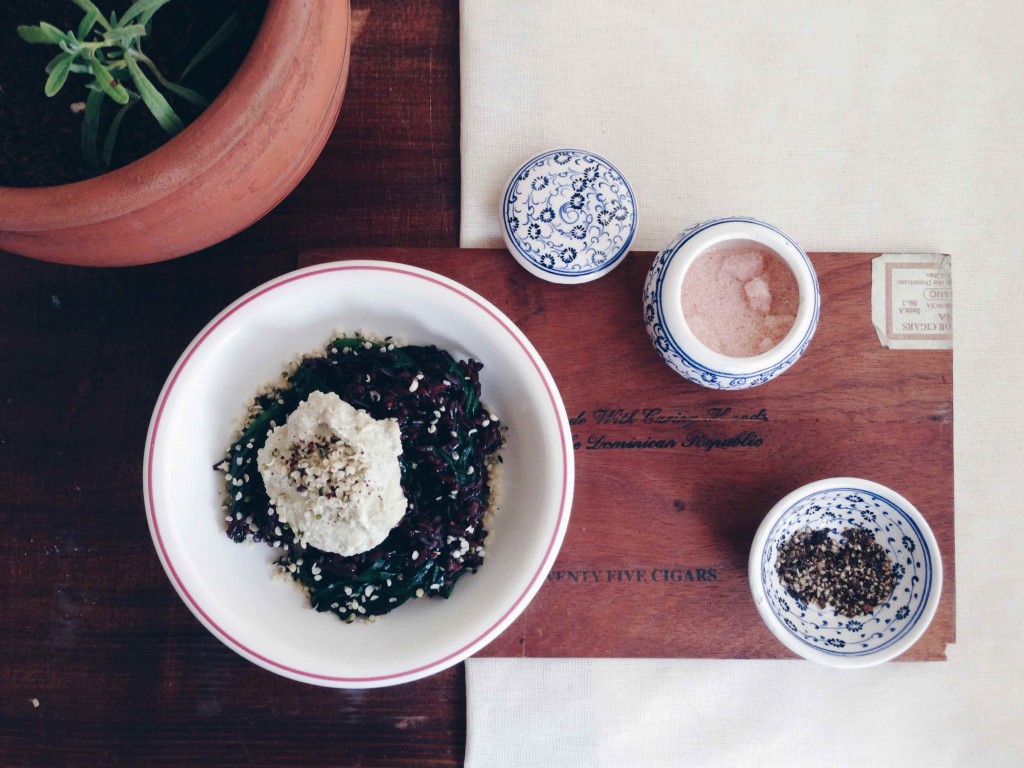 This is pure deliciousness: Lucky rice, forbidden rice, the emperor's rice, call it what you like. But if there's one thing you might want to try this week, make it black rice! Its slightly chewy texture and sweet tang make my senses dance the samba time and time again. What's more, research suggests it is rich in antioxidants and healthy fibre. Bye bye then guilty rice conscience. Better stock up on black rice asap!
As for our black rice recipe premiere on FRUCTOPIA, it got all dressed up in a vegan, figure-friendly dressing. Sprouted sunflower seeds, avocado and nutritional yeast with a hint of coconut oil add the glamourous final touches.
There is however one small obstacle on its quest for world domination involving a triumphant multilateral march across international magazine covers.
Ever tried taking pictures of black rice? Let's just say it won't boost your Instagram stats.  – Tweet that
This dish was inspired during a recent lunch date I had with these two gorgeous and talented ladies from Berlin fashion label MIJUNE, at one of Berlin's latest hot spots: Daluma. It's all about feel-good, healthy food. Make sure to stop by on your next visit. Or have you already been? Have you tried black rice before?

Black rice with a dressing of sunflower seeds, avocado and nutritional yeast (vegan, low fructose, gluten free/2-3 servings)
Cooking time for black rice is quite long. If you soak it over night in plenty of water, it'll save you about 20 minutes cooking time the next day. Even though I would always choose a hot dish over a cold one, I like this meal even better after it has cooled down. I usually allow it to soak up all the ginger, fermented garlic, spinach and black rice and let it infuse for a few hours. But see how you like it. Astonishingly, fermented garlic is well tolerated by most people with fructose malabsorption. I have it on a regular basis and feel fine with it.
The night before
1 cup black rice
2/3 cup sunflower seeds or a mixture of sunflower seeds and hemp seeds
water to soak
For the rice
1/2 tbsp coconut oil
1/4 tsp sea salt
2 cups water
3 hands full of spinach, cut into stripes
2 cm fresh ginger
2 cloves fermented garlic
1 tbsp tamari
For the dressing
5 tbsp olive oil
1/2 lemon, juiced
1/2 avocado
1 1/2 tbsp nutritional yeast
1 tbsp brown rice syrup
1/4 tsp himalaya salt, more to taste
pinch of sumac
pinch of chili
fresh pepper
water, if needed
hemp seeds, to sprinkle on top
Rinse black rice under water and place into a bowl with fresh water. Add sunflower seeds to a separate bowl and cover with fresh water. Let soak overnight.
Drain the rice, rinse again. Add coconut oil to a pot and heat. Add black rice and salt and sauté for 1-2 minutes. Add water, cover and let simmer for 30-40 minutes until the water has been soaked up and the rice is done. Please note: Every kind of black rice is a little different. Sometimes it takes more time or water until the rice is done.
In the meantime wash the spinach. Cut spinach, ginger and fermented garlic in stripes. Mix and add tamari. 5 minutes before the cooking time is up, add the spinach mix to the black rice. Just place on top and cover again. This way you can gently steam the spinach until wilted. When done, take of the heat mix rice with spinach mixture and let sit for 10 minutes or longer (see note above).
For the dressing, drain sunflower seeds and add to cylindric mixing bowl together with olive oil and lemon juice. Blend, then slowly add the rest of the ingredients until you end up with a creamy dressing. Add water if needed.
Serve black rice with dressing and sprinkle hem seeds on top.