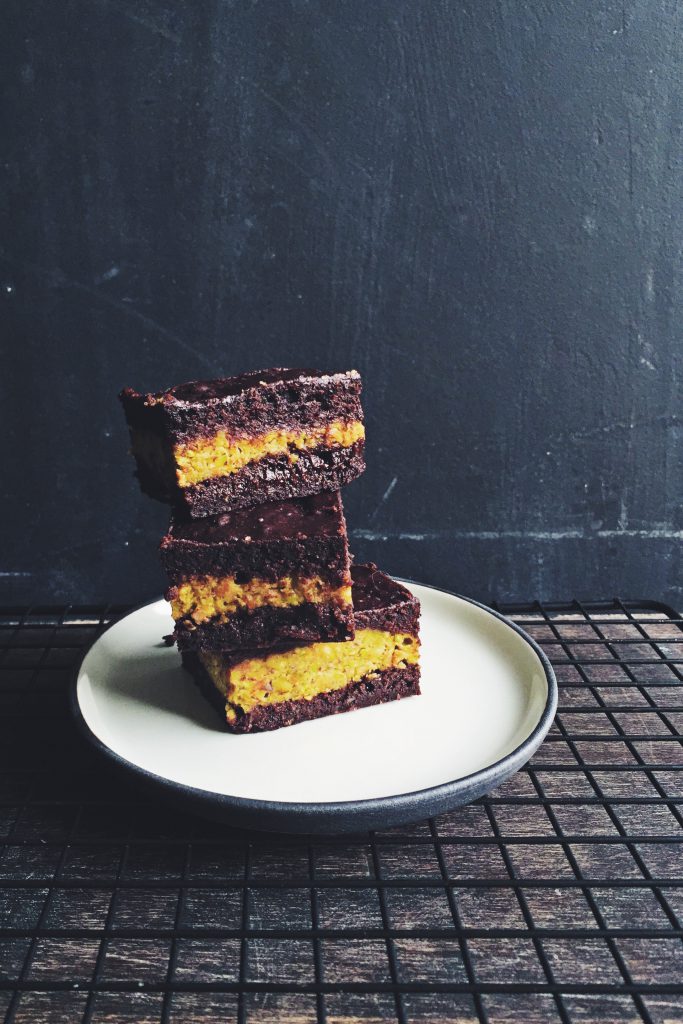 For the past months, life has been a rollercoaster ride. It feels like someone took all my experiences and thoughts from the past 3 years, put them in a jar, closed the lid and shook it like mad. And so, I've been trying to figure out, which of these ideas and values are still valid and which should be thrown overboard again for our new chapter in Berlin.
We are currently trying to make ourselves feel home in our new flat. The bad news, the kitchen still looks like this.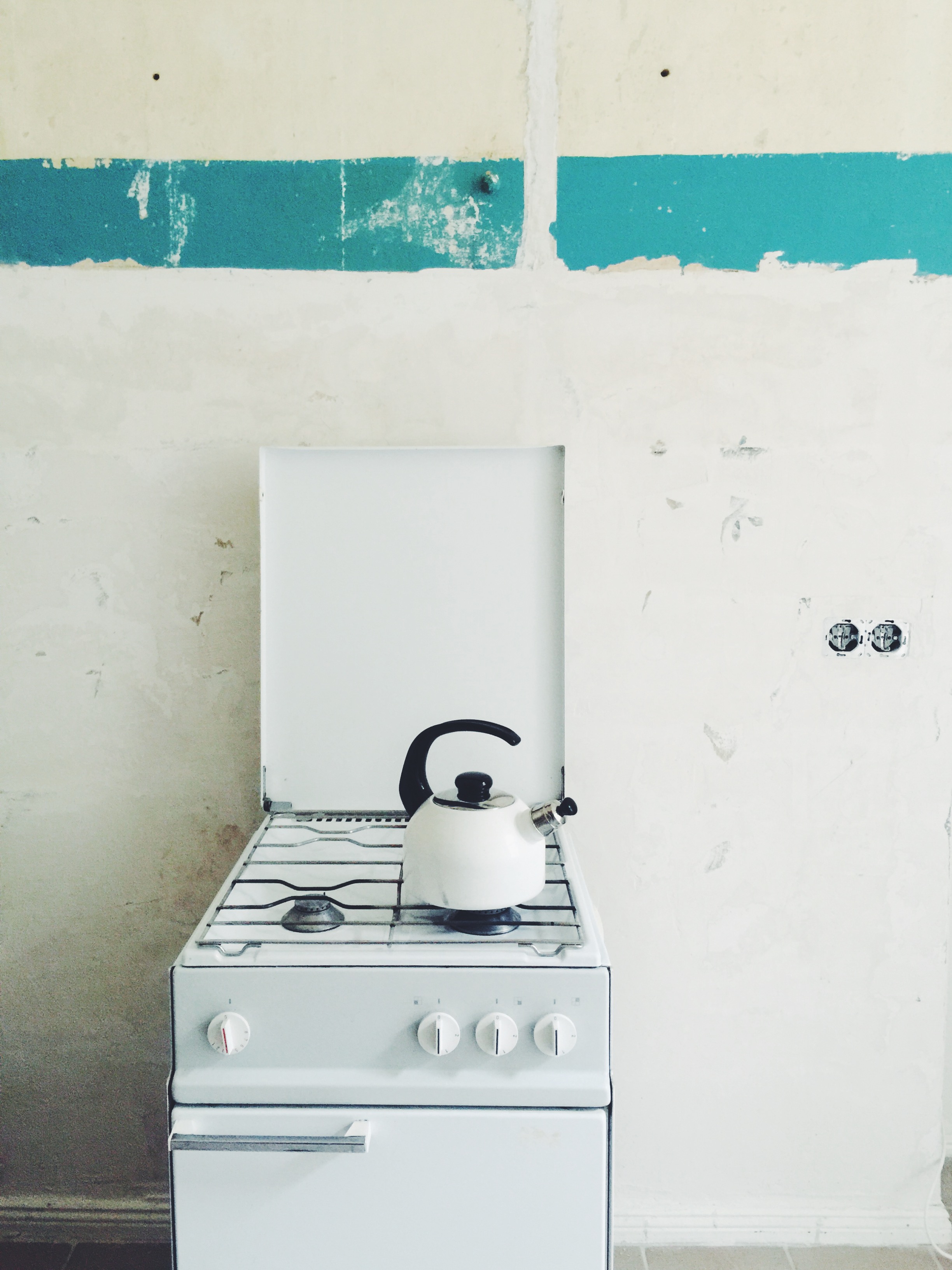 The good news – it won't stay that way. Hopefully we'll finish painting next week. The rest should be a piece of cake.
Speaking of cake. I don't know how, but somehow between moving and working my new job I managed to squeeze in a baking session in my father in law's kitchen. I was craving something with a deep chocolate flavor, kissed by a subtle taste of pistachio to bring back all those nice memories of Turkish cuisine in a flash.
A few hours later I was rewarded with moist, cocoa-rich Brownies wrapped around bright green, cream cheese pistachio filling. A cake so delicious and rich that I debated calling them truffles instead. A perfect treat to serve along many cups of coffee and to share with as many friends as possible! 🙂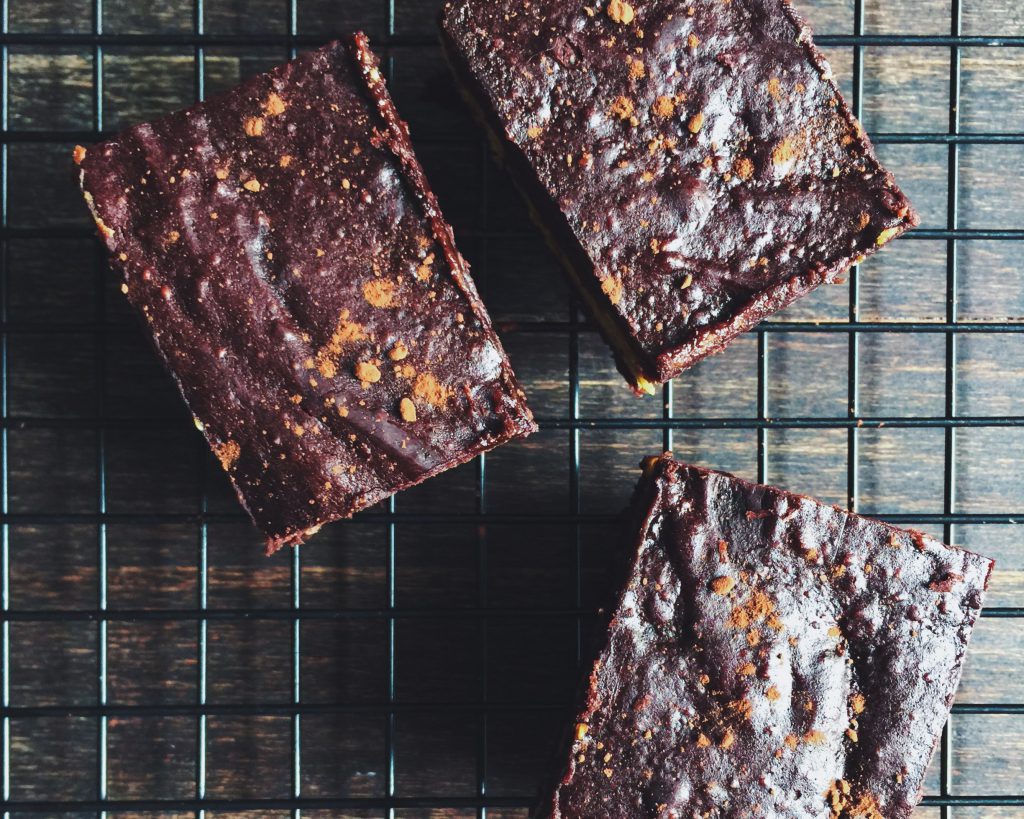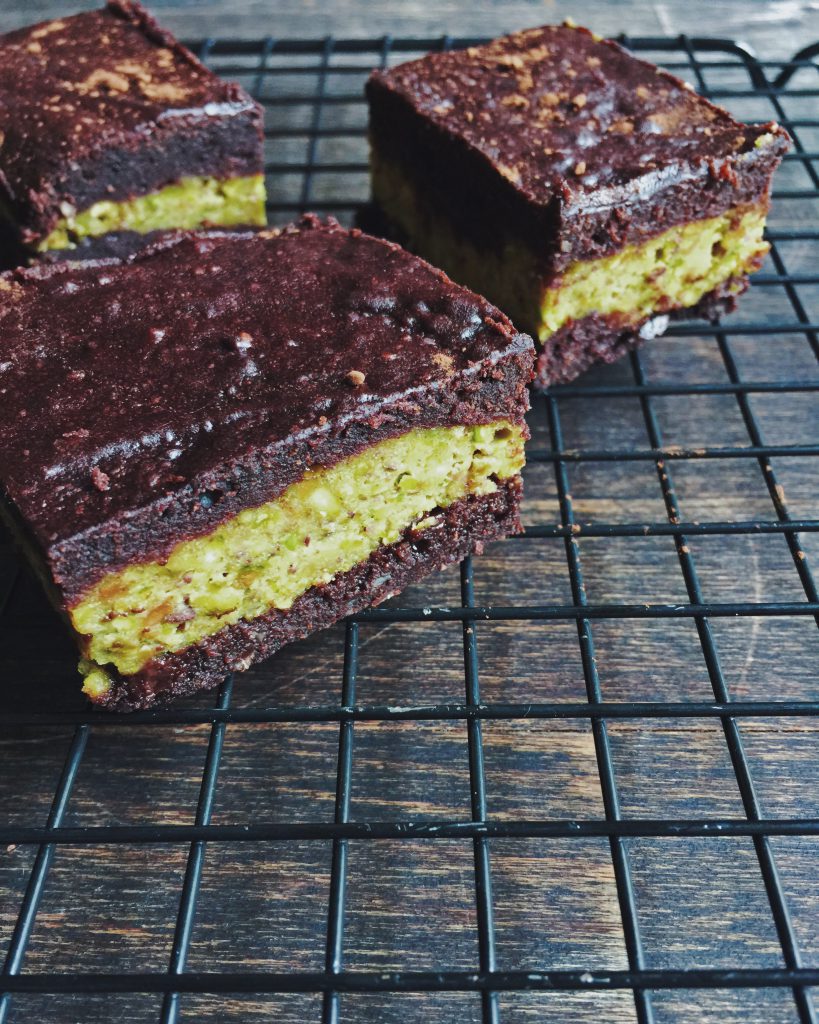 Fructose Friendly Chocolate Brownies with Pistachio Cream Cheese Filling
Good to know: From a botanical standpoint pistachios are not a kind of nut, but belong to the group of stone fruits. If you have trouble digesting stone fruits in large amounts, make sure to enjoy these brownies in moderation.
Yields about 20 pieces | Prep Time approx. 20 min. | Baking time 20-30 min.

INGREDIENTS
Pistachio cream:
– 110 g shelled pistachios
– 1 large egg
– 85 g cream cheese
Brownie layer
– 70 g light spelt flour
– 30 g ground almonds
– 3 cold large eggs
– 140 g unsalted butter
– 75 g unsweetened cocoa powder
– 120 g fructose-free corn sugar (e.g. by Frusano)
– pinch of salt
METHOD:
Preheat the oven to 325° F (165° C). Line an 8-inch (20x20cm) square baking pan with parchment paper. Lightly butter the bottom of the pan. Shell the pistachio and rub off as much of the purple skin as possible. Add pistachio to a blender and mix until coarsely ground. Add egg and cream cheese and mix until smooth.
In a double boiler slowly heat butter, cocoa and fructose-free corn sugar. Whisk constantly to avoid the cocoa from burning. Mix well until all ingredients have melted into a smooth batter. Carefully remove the bowl from the water bath, set aside and let cool for few minutes.
In a separate bowl mix together spelt flour, almonds and salt. When the chocolate batter has cooled down a bit, add the eggs one at a time, whisking firmly after each one. The batter should be thick and well blended. Stir in the flour with a wooden spoon just until you don't see any large flecks of flour anymore. Don't overmix the batter at this point to keep the brownies soft and fluffy.
Pour half the brownie batter into the prepared pan. Spoon the pistachio filling on top and cover with the remaining brownie batter. Carefully tap the pan onto the counter for a few times to smooth out the top of the cake.
Place in the oven and bake for 20-30 minutes, depending on the power of your oven. The brownies are done, when a toothpick dipped into the center of the batter comes out slightly oily with little batter. Let cool for 15 minutes. Remove from baking pan and let cool completely before cutting and serving.