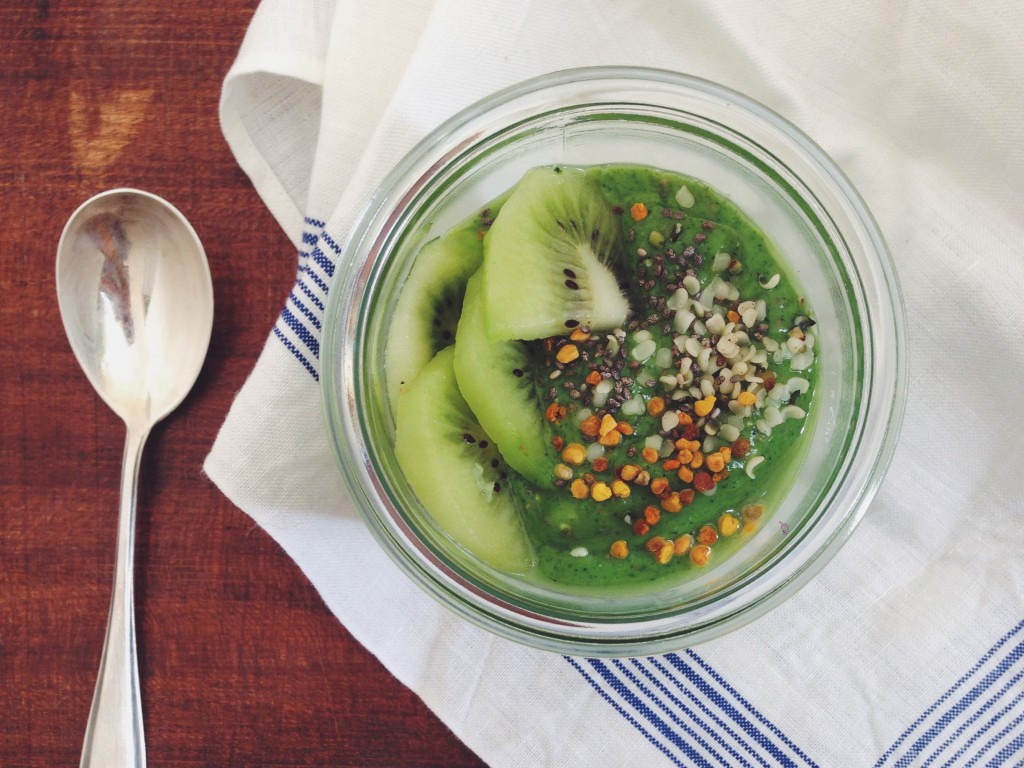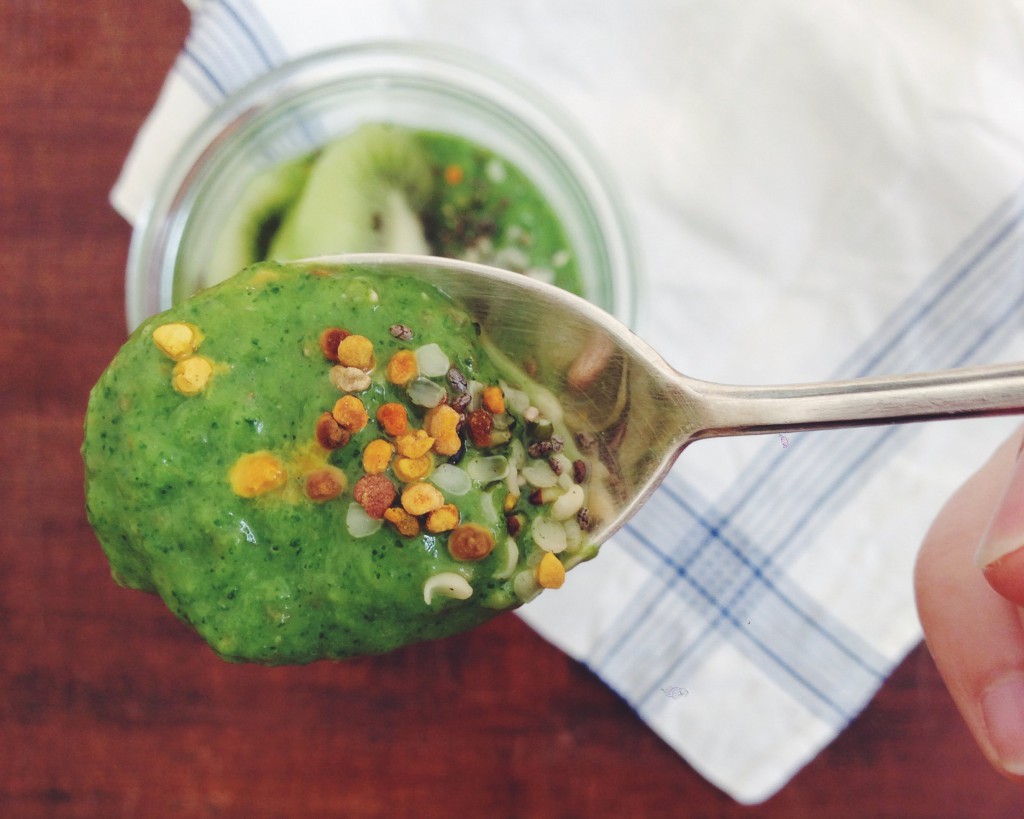 It's always summer somewhere on this planet of ours. Isn't that a comforting thought? No matter how cold and rainy it is outside, I could snatch a flight ticket anytime and escape to a better place. Only a couple of hours later I would find myself sitting on a Sri Lankan beach, soaking up the sunshine with all my thirsty cells.
So far I didn't have a reason to escape to the South though. The weather forecast here looked amazing. February has been kind to us Istanbullus: Sunshine for days with my winter coat tucked neatly back into the closet and farmers' markets back in full bloom. In place of a piping hot bowl of oatmeal I was craving a light breakfast, so I came up with this sunray-bathed little fellow. The sourness of the kiwi tickles your nose, young nettle leaves get your body in the right mood for a spring cleanse, while the avocado dives in to give it all a silky-smooth texture. Before you know it, you are holding another love letter to this wonderful sugar-free life right in your very own hands. This is how delicious breakfast can be, once you've banished those sugar-loaded cereals from your world.
Don't you sometimes feel grateful for fructose malabsorption making you eat better than ever before?! I sure do! 🙂 – Tweet that
Then, three days ago, it happened again, winter returned to the Bosphorus: Untamed snow flakes dancing outside our window, heaters turned up to the fullest and my happy self with a hot soup in front of me. Enough with all that premature praise of Istanbul's weather, for now. What remains is this lush little messenger of warmer days ahead. Summer is bound to return any moment now. I promise!
Kiwi-Avocado-Nettle-Crème (fructose-friendly, vegan, gluten-free)
Depending on the ripeness of your kiwi this fruit crème might turn out a bit sour. If you prefer to remain on the sweeter side, add half a banana to the mix.
Also, if you don't own a high-speed blender, try this little #smoothiehack. Use your immersion blender and start blending with as little added liquid as possible. That way you won't end up with huge chunks of leaves in your smoothie. If you add the liquid in the beginning it would turn into a mission impossible.
For one small glas
1 hand full of young nettle leaves with seeds
1/2 hand full of fresh mint leaves
1 kiwi, peeled
juice of one 1 lime
1/2 avocado
1 tbsp chia seeds
Water
Add-ons: Hemp seeds and bee pollen (not vegan)
Clip nettle leaves from their stems with a scissor and wash. Be careful not to sting yourself. Put in your high-speed blender together with mint leaves, kiwi and lime juice. In case you use an immersion blender like me, add everything to a tall bowl like the ones that usually come in the same box as your blender and blend until smooth (see note above).
Add avocado and chia seeds and blend again. Slowly add water until creamy and smooth. Pour into a glas top with hemp seeds and bee pollen and serve.
Did you like this post? Give me some kudos and sign up for my free newsletter! This helps motivate me to continue with this blog. I promise you won't ever miss one of my posts again and you will end up geting some extra goodies on top, which I only share with those on the list. As a first thank you gift I will send you a mini e-book (pdf) with my best blog recipes of 2014 – 100% fructose- and wheat-free.