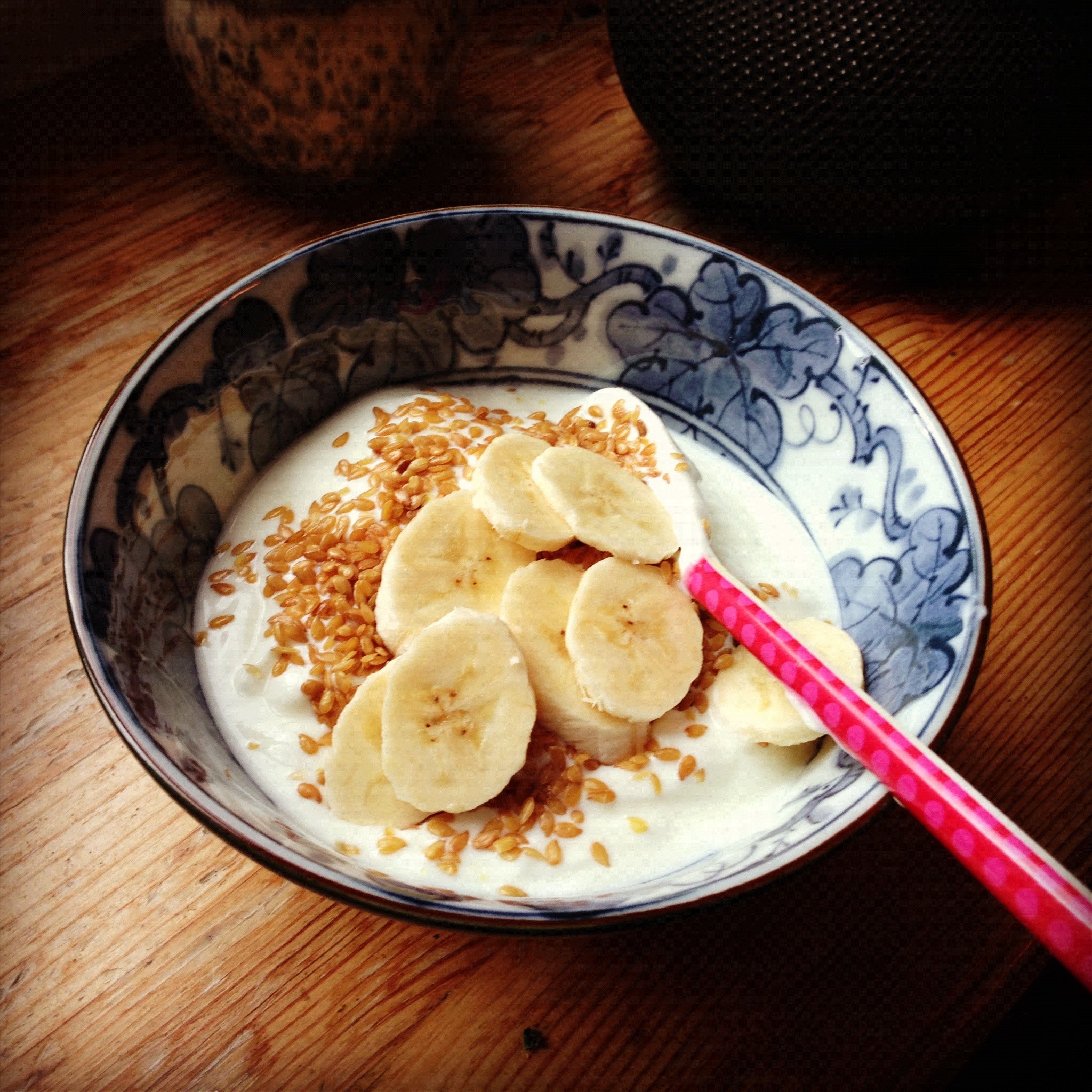 Before I knew about my fructose malabsorption, breakfast was something I only thought about after a long night out to sooth my stomach. I usually skipped breakfast and couldn't wait for lunch time to indulge into hearty portions of pasta, pizza or whatever was on the lunch menu. If I bothered having breakfast I usually grabbed a sandwich at a bakery that was near my office or university. I'm not talking about the kind of mayonnaise dripping sandwiches topped with a half kilo of turkey like most of my American friends are used to. Nope. I'm talking about a simple "belegtes Brötchen", that's what we call our sandwiches in Germany. Nothing too unhealthy or heavy, just a bunch of useless carbohydrates. However, by lunch time I often felt hungrier than the times I hadn't had any breakfast at all. Of course weekends were a different story, but that makes for only 2 out of 7 days a week, right? Either way, I just couldn't get hold of a healthy breakfast routine. But since I had to throw everything I've learned about nutrition (including my personal preferences and eating habits) over board after getting my test results, breakfast was one thing I had to tackle as well.
This became all the more obvious, when going out for lunch with my colleagues to enjoy some good and fresh foods turned into a necessary evil. My role at the table had become that of the picky eater (jeez, what can that girl eat?!). All of a sudden the thought of a nice and simple breakfast, filling enough to get me through the day until dinner, even when there is nothing suitable on the lunch menu other than scrambled eggs with bread or a potato soup, became quite soothing.
So I had to get into breakfast mode. Instead of relying on someone else's lunch ideas or cooking talents I decided to take things into my own two hands, when it came to the first meal of the day. I figured that I owed my previously maltreated stomach that much. I tried a lot of things, mostly some sort of self-combinded muesli mixtures with oats, nuts, amaranth pops and yogurt or a crisp bread with cream cheese or cottage cheese. Nothing too fancy of course. But most of the time it just didn't do the trick. I still felt hungry afterwards, or even worse, it only caused constipation. Then one morning, I finally got hold of my "secret" recipe for a feel good breakfast.
Today I'm revealing to you, what's on my fructose free breakfast plate every workday. It's simple, but I love it. And my stomach loves it too, surprisingly. I grab a banana, some nice and creamy plain yogurt (at least 3,5% fat) – do I really need to mention that I only use organic dairy products? =) – and three tablespoons of golden flax seeds.
Yes, that's right. I eat a banana for breakfast at least 5 days a week. My stomach handles them pretty well. The bananas shouldn't be too ripe of course, as they get sweeter and sweeter when ripening. I prefer golden flax seeds over brown because they help me to digest even better. So for me it's essential to eat flax seeds or tiger nut flakes everyday. And it works! Of course only if I remember to drink a lot of water or herbal tea with it. So this combination of food and liquids keeps me full for a while.
The best thing about bananas, yogurt and flax seeds is, you usually get them the entire year round! 😉 The golden flax seeds are easy to store and yogurt and bananas are something I always have at home or can easily pick up on the way to work. That's it. Nothing more to it. A simple but rewarding breakfast.
Of course sometimes more sophisticated stuff finds its way onto my breakfast plate, but those special treats are almost always reserved for the weekends. I will share some of my favourites with you soon!
So, let me know what your daily fructose free breakfast plate looks like. What's best for you and your stomach to begin the new day?