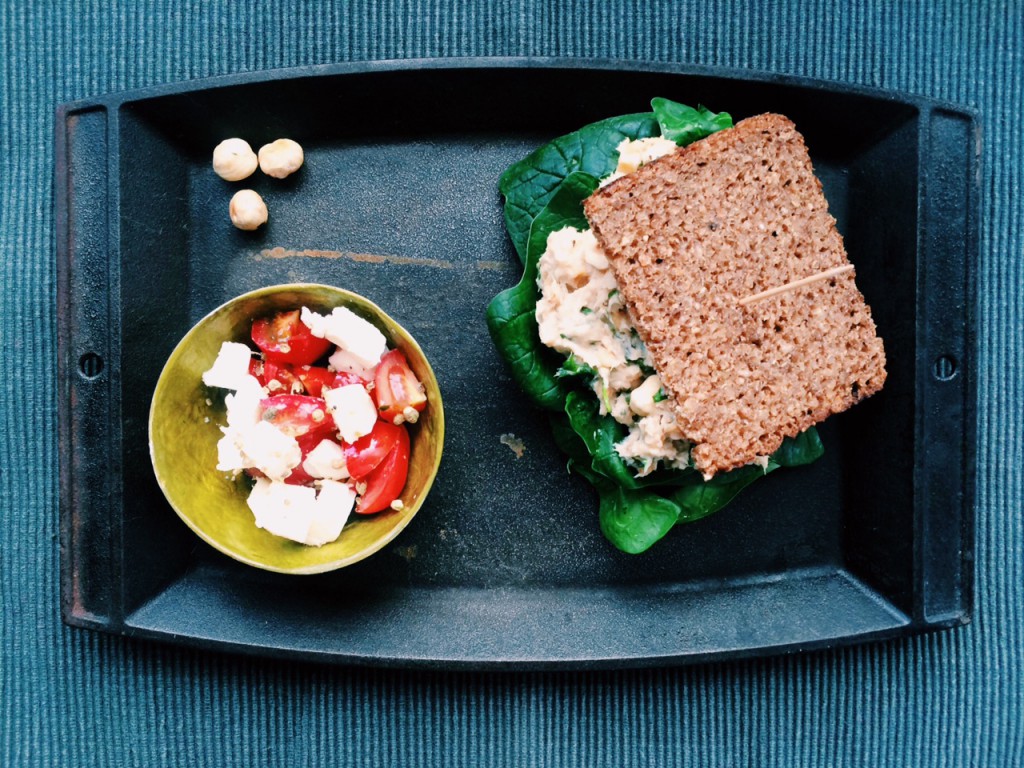 Food blogger are a tight-knit group of people. We comment on each other's Instagram posts, retweet like hell, delve into each other's blogs and seem to "know" the same people. Sometimes we even exchange a few mails or invite one another over for an interview. If we seem to get along like mac 'n' cheese, we might even meet up for lunch. Crazy on one hand. Brilliant on the other. I really appreciate those virtual connections, as I'm not granted any fructose malabsorption allies among my circle of real-life friends. So just like you ask me your questions, I send mine over to Steph, Melissa, Sonja or Colleen.
Just like you, Colleen has a long past spiked with ups and downs: She went through numerous surgeries, and was officially diagnosed with Hashimoto and Irritable Bowel Syndrome (IBS), just to name a few. At some point Colleen was sick and tired of being sick and tired and decided to henceforth focus on her personal healing process and that of her clients. As a certified nutrition counsel she is an expert on all things FODMAP and develops fun recipes for her site FODMAPLife.com. With over 42.000 follower on Facebook she also built up one of the most successful communities for food intolerances, irritable bowel syndrome, coeliac, Hashimoto's and Crohn's disease.
Because I'm a huge fan of Colleen's work myself, there was no way of turning down the low FODMAP cooking challenge she came up with.
The task: Colleen picked five of her favorite ingredients and asked me to think of a kickass low FODMAP recipe for her and her readers to enjoy. In return, I chose five ingredients and asked Colleen to come up with a delicious blend of her own: Sweet potato, spinach, hard cheese and fresh herbs like parsley and cilantro. What would your dish of choice be, based on my choice of ingredients listed above?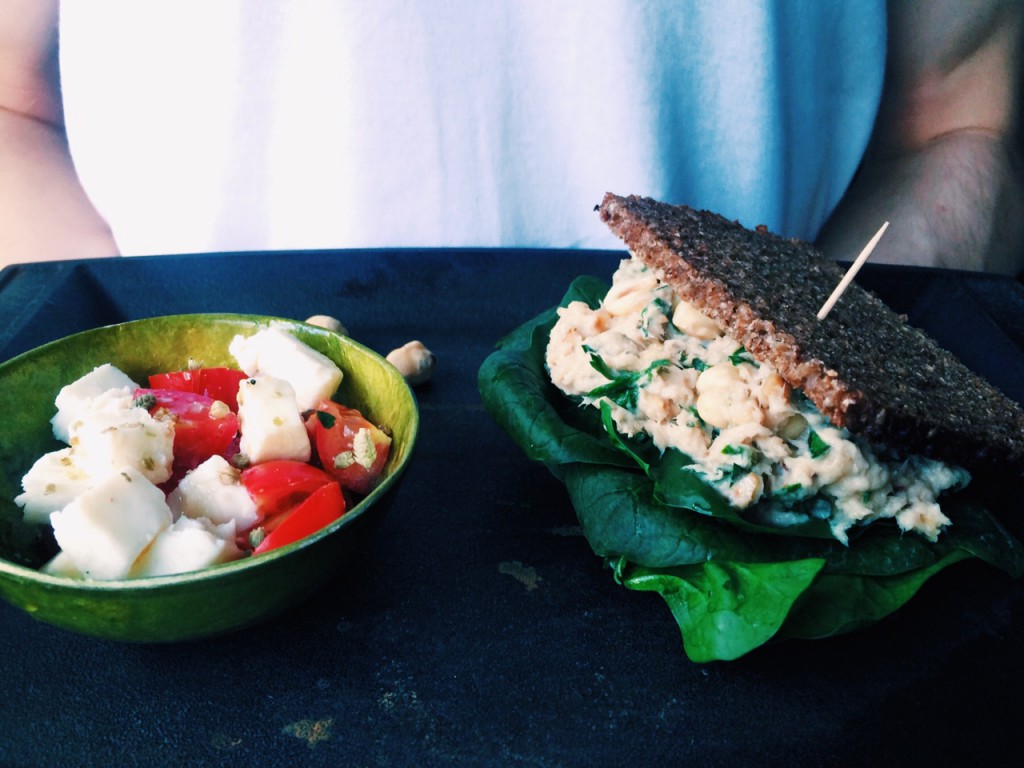 And this was my assignment: Tomato, fish, olive oil, spinach and feta. Lucky me: As soon as I read Colleen's mail, I was about to run straight down to the Bosphorus to grab some fresh fish from the market. Freshly grilled fish with an assortment of mezze made from cheese, tomato, spinach and olive oil is considered a national heritage here in Turkey.
But midstream I changed horses. Sure, it's easy for me to grab some fresh fish, but not everyone has access to it. So back to the drawing board, or rather back to my pantry, I went. I wanted to create something easy yet offbeat, something droolable! 😉
The solution: Sandwich time!
Everyone appreciates a delicious sandwich made from juicy toppings, don't you think? I added some miracle Turkish hazelnuts to the fish spread I had in mind and there I was, ready to field my candidate. You might be asking yourself, what's so special about Turkish hazelnuts? Well, you might not know that 80% of the world's hazelnut produce is harvested in Turkey! Without hazelnuts from Turkey, the rest of the sugar-eating world population would sink into a serious Nutella depression right now! *evillaugh*
But, back to the main topic: My sandwich! Topped with a juicy mackerel-hazelnut spread and spinach, served with a feta-tomato-thyme salad and fruity olive oil. Sounds good? Tastes good! 🙂
The rest is up to Colleen's verdict. And I can't wait to see her own recipe! Show me what you've got Colleen! 🙂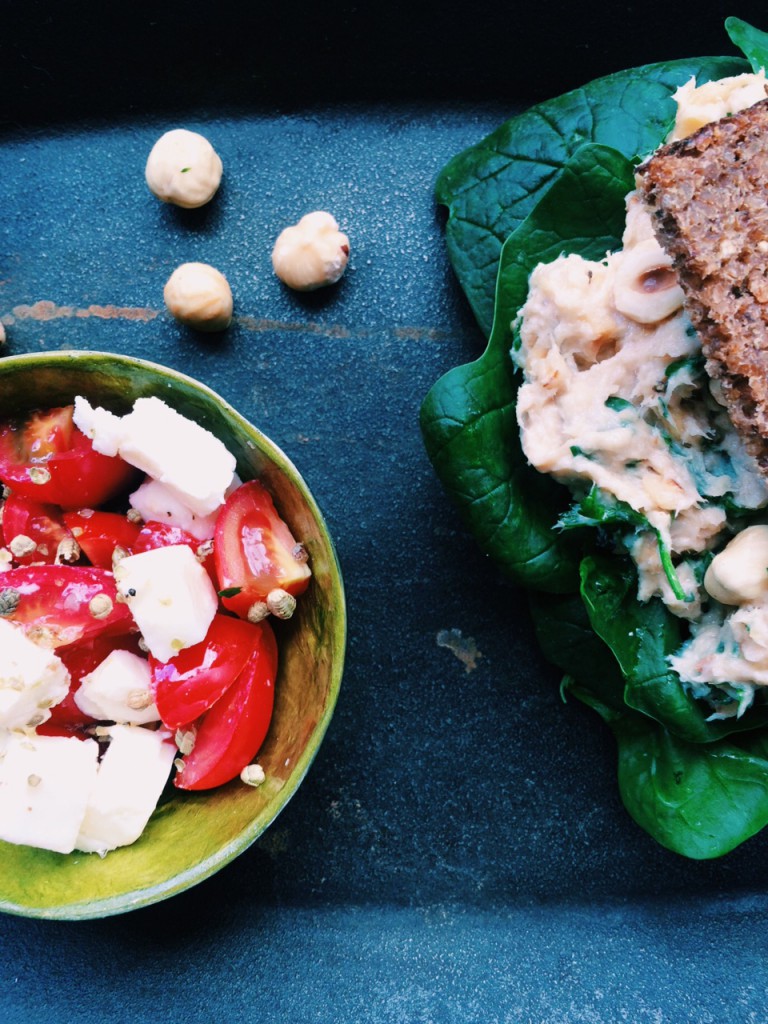 Recipe: Sandwich with Mackerel-Hazelnut-Spread and Feta-Tomato-Thyme-Salad
You don't have garlic-infused olive oil at home? No problem, you can make your own in no time: Gently heat two peeled and sliced garlic cloves in some olive oil. As soon as you see some bubbles appear at the edges of the garlic, turn down heat and let infuse for a couple of minutes. Discard garlic and keep the oil. Done! You just made yourself some low fructose garlic-infused olive oil.
Serves 1
Sandwich with mackerel-hazelnut spread and spinach
100 g shelled hazelnuts
1 hand full of fresh parsley, roughly chopped
2 cans of mackerel filet (300-400 g)
2 Tbsp garlic-infused olive oil
2-3 Tbsp soft butter
2-3 Tbsp lemon juice
1 pinch of sea salt
1 pinch of freshly ground black pepper
Chili flakes, optional
Cumin, optional
2 slices bread of your choice (spelt sourdough or gluten-free bread works best for me)
1 hand full of fresh spinach
Tomato-Feta-Thyme-Salad
4 cherry tomatoes
approx. 50 g feta cheese
1 Tbsp fruity olive oil
fresh or dried thyme
sea salt
In a non-stick pan, lightly toast the hazelnuts over low heat. Stir frequently to prevent burning. Coarsely chop hazelnuts and parsley.
Drain the mackerel filet and place with garlic-infused olive oil, butter, lemon juice, sea salt and pepper in a food processor. Grind to a coarse spread. Add hazelnuts and parsley and run until all combined. Season with more salt, pepper, chili flakes, cumin and lemon juice according to your taste. Continue assembling the sandwich or store spread in the fridge, until needed.
Brush your bread with garlic-infused oil if you like and toast until warm. Garnish the bread with fresh spinach and lots of mackerel-hazelnut spread. For the salad, divide tomatoes into quarters and cut feta into cubes. Douse with high quality olive oil, sea salt and thyme. Serve immediately with your sandwich. Enjoy!